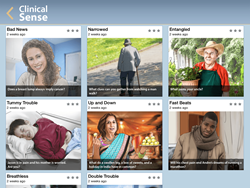 The scenarios are realistic and interesting and unfold realistically, exercising your reasoning
Delaware (PRWEB) October 04, 2014
Medical Joyworks LLC is pleased to announce the immediate availability of Clinical Sense on Google Play, fast on the heels of the highly popular iOS version, which has persistently ranked among the top 100 medical apps in the United States since release.
A breath of fresh air in the crowded medical app field, Clinical Sense presents a very different approach towards learning difficult medical cases, with the potential to revolutionize the way physicians view medical education.
The app allows users to assume the role of a treating physician and navigate their way through a myriad of interesting and challenging clinical scenarios.
Among the storylines are an aspiring amateur athlete with a life threatening cardiac arrhythmia, an Indian housewife in a hyperglycemic coma and a young woman going through a traumatic heterotopic pregnancy. Each features a patient presenting with an undiagnosed illness and confusing clinical features.
As the users put their thinking caps on to solve the mystery illness, they will interact with dozens of interesting characters: an overbearing colleague, an authoritative hospital director, quarrelsome relatives and even a long lost college sweetheart. Users will encounter multiple decision points where they have to make critical decisions and save their patients before it is too late.
Clinical Sense has been a hit with Medical Professionals so far, with users stating that "it is like playing Dr. House", "the scenarios are realistic and interesting and unfold realistically, exercising your reasoning", and that the app "enables me to make mistakes and learn from them without causing any damage to my future patients".
Being no stranger to development of mobile apps, Medical Joyworks are the creators of the immensely successful Prognosis: Your Diagnosis family of apps which boast 2 million downloads on the iOS App store and Google Play.
Clinical Sense for iPhones and iPads can be downloaded for free at the following URL: https://itunes.apple.com/us/app/clinical­sense/id856082326?mt=8
Clinical Sense for Android can be downloaded for free at the following URL: https://play.google.com/store/apps/details?id=com.medicaljoyworks.clinicalsense
More information on Clinical Sense can be obtained at: http://www.clinicalsenseapp.com/
More screenshots are available at: https://www.dropbox.com/sh/udy5wbz82vo27hk/AAA0Kw3nZDYJ_5veTI2tc-Qba/Screenshots?dl=0