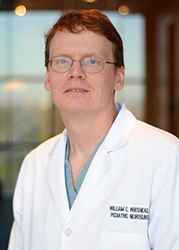 We believe that our study proposal will answer an important question and has the potential to significantly improve the care of pediatric patients with shunted hydrocephalus.
Bethesda, MD (PRWEB) October 07, 2014
The Patient-Centered Outcomes Research Institute (PCORI) announced it is awarding a $1.8 million contract to the Hydrocephalus Clinical Research Network (HCRN) to identify the best shunt entry point in the brain of a hydrocephalus patient. The study is one of 46 proposals PCORI approved for funding on Tuesday, September 30, to advance the field of comparative clinical effectiveness research (CER) and provide patients, healthcare providers, and other clinical decision-makers with information that will help them make better-informed choices.
The funding will be used to support a four-year randomized controlled trial proposed by HCRN. Dr. William Whitehead of Texas Children's Hospital and Baylor College of Medicine, a principal investigator for HCRN, will lead the study, which will accrue patients at all nine HCRN-participating pediatric hospitals. The goal of the study is to determine which entry point decreases the need for repeated brain surgeries due to device failure, thereby improving the quality of life of patients living with hydrocephalus.
"We believe that our study proposal will answer an important question and has the potential to significantly improve the care of pediatric patients with shunted hydrocephalus," stated Dr. Whitehead.
Hydrocephalus is a devastating long-term condition affecting approximately 2 of every 1,000 babies born in the United States, making it as common as Down syndrome and more common than spina bifida or brain tumors. It occurs when the brain is unable to reabsorb cerebrospinal fluid (CSF) as quickly as it is produced, causing a fluid build-up that increases pressure on the brain. If left untreated, hydrocephalus can result in death. There is no cure for hydrocephalus, and only surgical treatments are available.
Placement of a shunt is the most common treatment for hydrocephalus. The shunt, a flexible tube attached to a small pressure valve, is surgically implanted into the fluid-filled chambers of the brain to divert the flow of CSF into another region of the body, usually the abdomen, where it can be absorbed. Shunts experience a high failure rate due to obstruction or infection, and approximately 50 percent fail within two years of surgical implantation.
Shunt failure is a significant cause of pain, suffering, anxiety, and death in children, thereby making it a subject of paramount concern to the hydrocephalus patient and caregiver population.
"This is an important study for the patient community as it could lead to significant improvement in the lives of patients and families. Children and adults living with hydrocephalus never know when their next brain surgery will be because of the possibility of a shunt failure," stated HA CEO Dawn Mancuso. "Results from this study could mean fewer hospitalizations, diagnostic tests, and days off from school and work, which is why the topic ranked so high in a recent survey we issued to our member population. We were proud to expand our partnership with HCRN to execute this contract funded by PCORI."
The Hydrocephalus Association, the nation's leading patient advocacy organization for individuals with hydrocephalus, partnered with the HCRN to bring the patient voice to the PCORI grant selection and submission process. As its name indicates, PCORI aims to fund research that is most relevant to patients and its funded grants require patient community involvement throughout the lifecycle of the project. To ensure patient representation in the study, the Patient Partner Committee (PPC) coordinated by HA will engage at each key milestone and will work with HA to disseminate the study results.
"The Hydrocephalus Association's input and support of this study has been very useful and played a key role in winning the funding award," shared Dr. Whitehead. "I look forward to working with HA as we carry out the study and share the results."
Dr. Whitehead's study and the other projects approved for funding by PCORI were selected from 490 applications that responded fully to PCORI's funding announcements issued in February 2014. They were selected through a highly competitive review process in which patients, clinicians, and other stakeholders joined clinical scientists to evaluate the proposals. Applications were assessed for scientific merit, how well they will engage patients and other stakeholders, and their methodological rigor among other criteria. The award has been approved pending completion of a business and programmatic review by PCORI staff and issuance of a formal award contract.
"This project was selected for PCORI funding not only for its scientific merit and commitment to engaging patients and other stakeholders, but also for its potential to fill an important gap in our health knowledge and give people information to help them weigh the effectiveness of their care options," said PCORI Executive Director Joe Selby, MD, MPH. "We look forward to following the study's progress and working with HCRN and the Hydrocephalus Association to share the results."
PCORI is an independent, non-profit organization authorized by Congress in 2010 to fund comparative clinical effectiveness research that will provide patients, their caregivers, and clinicians with the evidence-based information needed to make better-informed health and healthcare decisions. PCORI is committed to seeking input from a broad range of stakeholders to guide its work. It has approved $671 million to support 360 research studies and initiatives since it began funding research in 2012. For more information about PCORI funding, visit http://pcori.org.
About the Hydrocephalus Association
Founded in 1983 by the parents of children with hydrocephalus, the Hydrocephalus Association is the nation's largest and most widely respected organization dedicated to hydrocephalus. The Hydrocephalus Association's mission is to promote a cure for hydrocephalus and improve the lives of those affected by the condition. For more information, visit the Hydrocephalus Association website at http://www.hydroassoc.org or call (888) 598-3789.