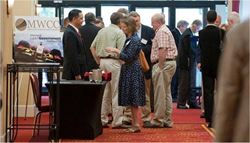 'Lean' government does not equate to small government. 'Lean' also doesn't mean weak or downsized. 'Lean' is government that is efficient and effective.
Baltimore, Maryland (PRWEB) October 04, 2014
"For over half a century, the private sector has been using a highly effective improvement technique to create more efficient factories and offices all over the world," explains Jeff Fuchs, Executive Director of the Maryland World Class Consortia (MWCC), and conference organizer.
The method, typically referred to as 'lean', was first developed by Toyota, but it is used today by leading private sector companies, including Boeing, Herman Miller, Cleveland Clinic, Starbucks, and many others. Lean involves employees in scientific problem solving that reduces wasteful activities, streamlining processes, making them simpler and more hassle-free. All of this ultimately saves money and delivers a better value for customers.
About a decade and a half ago, several government agencies around the country began experimenting with lean in government, and these early experiments delivered positive results. Today, almost two dozen U.S. states have launched some type of lean government program. Many federal government agencies have well-established lean efforts, and all four branches of the military have active lean programs. Pilot projects have begun in several government jurisdictions across Maryland with similar positive results.
Over two days, the 2014 Maryland Lean Government Conference will feature eight speakers who will describe their improvement strategies, results, and how Maryland government can do the same. "The conference is aimed at introducing more people to these proven methods and sharing ways to build high-performance government in Maryland," says Fuchs.
Fuchs commented on the timing of the conference just ahead of the general election. "'Lean' government does not equate to small government. 'Lean' also doesn't mean weak or downsized. 'Lean' is government that is efficient and effective. The proper size and role of government is a centuries-old political debate. As citizens, we all have differing political views, but we should all expect our government to be efficient and effective. Lean government is a non-partisan expectation we should all share," he says.
Among the featured speakers are the statewide continuous improvement directors for Minnesota and Ohio. In 2013, Ohio's lean program spawned over 200 improvement projects that netted over $150 million in projected annual savings for Ohio taxpayers. Minnesota's lean efforts have been running for over six years. In that time, they have trained over 4,500 employees across 30 state agencies and yielded similar financial results.
Other speakers will describe departmental improvements from the states of Michigan, Tennessee, and Virginia. Two speakers will highlight lean results in the Department of the Navy, and across several Federal government agencies. Descriptions of lean initiatives in the city of Baltimore and the Jacksonville Sheriff's Office will round out the event.
The 2014 Maryland Lean Government Conference will be held at the North Baltimore Plaza Hotel in Timonium, Maryland on Wednesday and Thursday, October 22nd and 23rd from 8 a.m. to 5:00 p.m. Conference information, case studies, and registration are at http://www.mwcmc.org/leangovernment. All state, county, and city government employees across all departments are invited to attend. The conference is open to the public.
The 2014 Maryland Lean Government Conference is part of the larger 2014 Mid-Atlantic Lean Conference. The Mid-Atlantic Lean Conference will add exhibits, awards, and over two dozen additional speakers describing lean improvements in manufacturing, K-12 education, and healthcare.
The Maryland World Class Consortia is a 501c3 non-profit established in 1996. The MWCC provides educational and support resources that increase the competitiveness of Maryland businesses and other organizations, and that help grow the Maryland and regional economies.
For more information: Jeff Fuchs, MWCC Director, (443) 865-2198 or jeff(at)leanmaryland(dot)com.
###