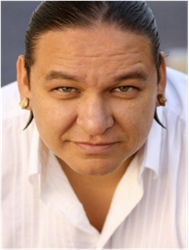 Santa Fe, NM (PRWEB) October 06, 2014
The Southwestern Association of Indian Arts (SWAIA), the private non-profit organization that produces the annual Santa Fe Indian Market is pleased to confirm Dallin Maybee as the Chief Operating Officer. On May 6, 2014 the SWAIA board announced the appointment of Dallin Maybee to the position of Interim Chief Operating Officer of SWAIA. At the time of his appointment, Mr. Maybee was serving as the Secretary on the SWAIA Board of Directors and stepped down from that position to co-lead the organization as Interim COO. Mr. Maybee is a well-known and respected artist within the Native art community and the 2007 Santa Fe Indian Market Best of Show winner. He has proven to be a tremendous asset to SWAIA and helped lead the organization to its most successful Santa Fe Indian Market in many years. The SWAIA staff and board will continue moving forward towards greater stability and to insure the success of future initiatives including the annual Winter Indian Market® and the 2015 Santa Fe Indian Market®.
Dallin states, "I am happy to accept this invitation to continue to be a part of the SWAIA community in a way in which my experiences and skills can lend a direct voice to the needs of the artists and our supporters. Artists are carriers of their culture and I am happy to be a part of an organization that values the significant contributions of tribal artists and our collective struggle to maintain the beauty and evolution of our cultural identity. I was absolutely thrilled at the success we found at this year's Indian Market. There were of course some difficulties in the logistics of an event this size, but I am grateful for the patience of our artists and our Indian Market community. The success of each of the components is a testament to the love and commitment that our community has for this legacy show. I am not looking to redefine Indian Market, its identity is defined by all those who choose to experience and participate in what SWAIA has to offer. My only hope is to continue to help in creating a positive venue for our collective experience."
SWAIA is also preparing for the 9th annual Winter Indian Market® which will be held over Thanksgiving weekend, November 29-30, in the Santa Fe Community Convention Center. This show is invitational; all the winners, artist auction donors, and then general artist participants from the summer Santa Fe Indian Market® are invited to return to Santa Fe and showcase their art. Winter Indian Market® provides an opportunity to see accomplished artists in a more intimate and relaxed setting. In addition to great art, there will be live cultural entertainment, a gift-wrap booth, and children's activities. Winter is always a season for giving and fundraising. This year's fundraiser includes a festival of trees and decorated wreaths graciously donated by local businesses and individuals that will be auctioned off at a Saturday evening reception in order to raise funds for our annual markets and outreach initiatives.
The Southwestern Association for Indian Arts continues to bring the best of Native arts to the world as we prepare for the 9th annual Winter Indian Market® and the 94th Santa Fe Indian Market®.
About SWAIA Santa Fe Indian Market
The Santa Fe Indian Market exists to provide a platform for established and aspiring Native/Indigenous artists to nurture and sell the art they create.
###