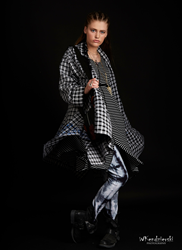 For our upcoming studio sale, we were looking for a space every bit as unique, creative & artistic as our company and the women who buy us." Says Litz
Philadelphia, PA (PRWEB) October 07, 2014
Always looking for new ways to wow clients & bring together the artistic community, Steel Pony owners and designers, Joanne Litz and Dennis Wolk, sat down and came up with a version of the increasingly popular Pop-Up store done in a way only they could conceive. The two contacted long time friend and fellow Philly artist, Isaiah Zagar, whose signature mosaics add beauty throughout the city of Philadelphia, about his lesser known, but equally stunning creative space: the Watkins Street Studio.
The event is spread out over two days in order to accommodate all of the diehard Steel Pony fans who travel from New York, Maryland, Delaware, New Jersey and throughout Pennsylvania to shop, find new ways of wearing pieces, receive personal styling from the designer herself and enjoy one another's company. All while receiving the styles they have been craving at great prices.
"Our Studio sales are a way of thanking our customers for their support. We enjoy having them come in and working with them to update their wardrobes. Everyone gets to play with clothing that they love and feel great in. This year, they get to do that in a space that evokes that same feeling," Litz explains.
Mark your calendars for October 24th & 25th (Friday 10am-7pm, Saturday 10am-5pm). 1005 Watkins Street in south Philadelphia.
About Steel Pony
Steel Pony creates one of a kind, Bohemian styled hand made clothing that is comfortable and always fashionable. They are also the creators of Journey Bags, Exotic Leather Handbags. Each piece is a handmade work of art, produced right here in the USA and all fabrics are Eco friendly. To see what Steel Pony can do for you and your lifestyle, visit their website at http://www.steelpony.com .