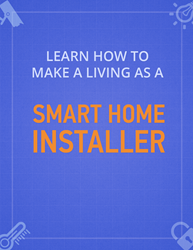 Your clients want smart homes, there's never been a better time to learn how to provide smart home install services. - Gerard in Ireland
Ireland (PRWEB) October 13, 2014
In an effort to encourage the general population to adopt smart home automation systems, Gerard O'Driscoll of HomeMentors.com is happy to announce the publication of 11 major educational initiatives:
1. Online Smart Homes Training Webinar
Don't have 10,000 hours to research the various types of connected devices? Gerard saves you thousands of hours of frustration that he went through to find out about the emerging home automation industry. Join Gerard in this online training class to explore the myriad of applications supported by next generation smart home systems. Click Here to register for the free training online workshop.
2. Smart Home Installer Course Giveaway
Today, Gerard also launched a giveaway for his upcoming course on how to make a living as a smart home installer. Here's what the giveaway includes:

Smart home installation fundamentals video master class (32 HD Videos)
Install business video master class (12 HD Videos)
Expert video interviews
Make a living as an Installer workbook
Audio versions of both technical and business master classes
Coaching and Q & A calls with Gerard
Add all that up and it's over $497 worth of educational content Enter the Make a Living as a Smart Home Installer Course Giveaway
3. Book Packages
In addition to the above initiatives, Gerard is also happy to announce the publication of the latest release of his book, titled' Manage Your Smart Home with an App!' The book is out now in ePUB (Apple and other readers), MOBI (Kindle format) and limited Print edition - available exclusively on Gerard's Blog. It's also worth noting that Gerard is providing a customized experience by offering three different content packages:
Package 1: Includes book, audio version, videos, limited signed copy, live coaching with Gerard
Package 2: Includes book and audio version read by Gerard
Package 3: Includes book (downloadable EPUB, MOBI and PDF)
Click Here to discover how Smart Homes can help improve peoples lives.
4. Free Smart Home Installation Toolkit
The toolkit includes an ebook on home security, a list of tools to build a smart home install business and the 10 Smart Home commandments. If interested in making money by providing install services to clients, then grab the toolkit Here.
5. Discover 'How To Build A Smart Home Install Business' Training Workshop
The connected home install business is growing and is no longer limited to specialized installers. In this online training workshop, Gerard takes people from zero to launch of their new installation business. Click Here if interested in making money by providing home automation install services? There will be a maximum limit of 1,000 attendees at the event, so make sure to register early.
6. Make A Living As A Smart Home Installer Course
Gerard's upcoming course takes electrical contractors, alarm installers, IT professionals and HVAC engineers from zero to launch of a new installation business. It is slated for release to the world at the end of October. Pre-Order Now if interested in making money by providing smart home install services to clients?
7. Smart Home Radio Show Podcast – Now Available On iTunes
Gerard's recently launched show is dedicated to helping people understand the amazing lifestyle-enhancing benefits of integrating light control, independent living 2.0 systems, IP camera's, home automation alarm systems, multi-room music 2.0 equipment, automated blinds, wearable devices, smart thermostats, and much more into their houses. The show is available on iTunes and Stitcher.
8. Smart Home Mini-Book
Gerard also provides a mini-ebook where people will learn to:
Install a smart absence alarm
Install a night detection system
Understand smart smoke detectors
Understand how to protect their homes from floods and leaks
Install an IP camera and more....
Click Here to quickly learn how to use smart home systems to enhance a families security & safety levels.
9. Mini-Podcast
This special 20 part podcast series acts as a companion to the recently launched 'Manage Your Smart Home with an App!' book packages. Listen to these short episodes on iTunes and Stitcher.
10. Smart Homes For Aging Adults Book Packages
Gerard has also released a book on how home technologies could be used to help people as they get older. Aptly titled 'Smart Homes For Aging Adults' this new book provides a step-by-step strategic plan for seniors who want to use technology to live more safely, healthily, and comfortably in their own homes for as long as possible. Click Here to start adding some senior friendly technologies to a home.
11. The 2014 Smart Home Hype Cycle?
The hype cycle released bi-annually by HomeMentors charts the progression of 25 emerging next generation smart house and personal technologies through a cycle of initial euphoria, disappointment to an eventual realization of the technologies role and relevance in people's lives. Click Here to view this years smart home hype cycle.
Gerard O'Driscoll, HomeMentors.com
+353 1.5241809
About the Author
Gerard is 44, accomplished international telecoms expert, educator, serial Internet entrepreneur, and angel investor.
About HomeMentors.com
HomeMentors.com – a media publishing company that helps people use Smart Home and Wearable solutions to make their homes more secure, safer, energy efficient and enjoyable.
http://www.homementors.com.