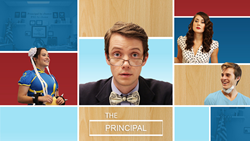 We want to endear our audience to the Bullfrog Spas brand and provide future returns.
Salt Lake City, UT (PRWEB) October 06, 2014
Bullfrog Spas announces the upcoming debut of The Principal, a Bullfrog Spas branded comedy web series. The first season of The Principal is comprised of 12 episodes, each 3 to 5 minutes in length, which tell the story of High School Principal, Gary Foote. The series is set at the fictional Brookfield High School, home of the Fighting Bullfrogs.
Bullfrog Spas has tapped some of the most influential stars of the top 2 social video networks, YouTube and Vine. The Principal stars are Eric Artell (YouTube), Manon Mathews (Vine), Marcus Johns (Vine), and Lana McKissack (YouTube).
The Principal will air on YouTube and will also be distributed through other online channels, including the Bullfrog Spas website and other 3rd party sites and channels.
Bullfrog International Marketing Director, Dan Sjoblom, commented on the motivation behind the web series: "We're seeing an outpouring of branded content from large brands. Smaller brands in traditional industries like ours seem hesitant to invest in this kind of content marketing. More brands continue to opt for the safer route of educating with their content. With The Principal we're instead choosing to entertain. We want to endear our audience to the Bullfrog Spas brand and provide future returns."
Samson Madsen, writer and director of The Principal, and Bullfrog Spas Creative Director commented on the process of making of the series: "We were able to get incredible talent, both in front of the camera, and on the production side and it shows. Viewers today are savvy so telling the story the right way is critical, but online viewers are also very accepting of new forms so you get the freedom to experiment."
Bullfrog Spas is promoting The Principal primarily through social media and other online channels. The series is also being used to the promote Bullfrog Spas' Free Spa Giveaway. Online entry to win a free Bullfrog Spa opens concurrently with the debut of the first episode on October 8, 2014 at http://www.bullfrogspas.com/freespa. Online entrants will be able to receive additional entries to the Free Spa Giveaway by answering questions about each episode.
Online Marketing Manager, Jake Ricks oversees the promotional side of the project. He commented on the opportunities and challenges saying, "We saw this opportunity expose the Bullfrog Spas brand to a wide audience and new demographic. It's great content with a strong appeal. One challenge for small teams like ours is the promotion. But with a smart social media strategy, some creativity and hard work we are getting the word out."
The Principal will on YouTube beginning Wednesday, October 8. Watch and subscribe to The Principal channel on YouTube. Find updates and fun supporting original content at The Principal website and on the The Principal social media pages and profiles on Twitter, Facebook, Tumblr, Google+ and Pinterest.