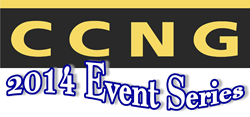 An exceptionally unique and engaging forum to interact with other leaders who are focused on further improving the experience their customers receive....
Fort Worth, Texas (PRWEB) October 08, 2014
CCNG International Inc. is pleased to announce their remaining fall & regional event schedule hosted by CCNG members in their customer contact operation centers in November and December. In November, the regional events' hosts will include GoDaddy in Phoenix AZ on the 6th, followed by the regional event on the 13th in Tampa FL hosted by Think Direct Marketing Group and in Dallas TX on November 19th hosted by Fossil. In December, the last CCNG regional event this year will be in Columbus OH hosted by Fiserv on the 4th.
These upcoming regional events follow several successful CCNG summer and early fall events that included member hosts T. Rowe Price, Coca-Cola Refreshements, Colorado Springs Utilities, AXA, Teleflora and Publicis Touchpoint Solutions. Additionally CCNG hosts the annual Contact Center Executive Summit in August each year in Fort Worth Texas. This year included member speakers from Disney Destinations, Blinds.com, Prime Therapeutics, Working Solutions and Sutherland Global Services and CCNG partner sponsors Aspect Software, OpenSpan, Five9, InMoment, VPI and Intradiem.
The CCNG events agenda is focused on strategies and best practices for customer service and contact center operations to improve overall levels of customer experience. Focus areas include:

Call Center / Contact Center
Customer Loyalty and Rewards
Social Media / Social Care
Customer Feedback and Satisfaction
Self Service and Support
"We have had a busy year and look forward to wrapping up with these great member hosts in November and December before we get started on our 2015 regional events in Q1," says David Hadobas, President and CEO of CCNG International Inc. "The customer experience issues discussed by our members this year clearly indicate we will continue on this theme going forward into the new year and feedback from members and guest attendees continues to support our highly interactive agenda allowing for the sharing of perspectives and experience on customer experience management".
What are people in contact center, customer service and customer experience management saying about participation in CCNG events?
"The ability to freely communicate our shared opportunities is great. It is so refreshing and valuable to be in a setting (not in conflicting industries) to comfortably share best practices. Thank you CCNG!" - Michael Brouillette, Division Manager, Charlotte NC CCC, Allstate Insurance Company.
"While each CCNG event is different, every one offers organizations a great opportunity to connect with and learn from other contact center professionals. I find very high value and enjoy attending CCNG events!" - Darren Ford, President, ProCulture Consulting
"The CCNG Executive Summit offered an exceptionally unique and engaging forum to interact with other leaders who are focused on further improving the experience their customers receive. The conversations and connections I experienced will be leveraged in the future as we look to expand the services provided to our members. Additionally, the partner presentations were very timely as they hit on what is important in today's competitive markets throughout all of our industries." – Jim Lavery, VP Contact Center Operations, Desert Schools Federal Credit Union.
These upcoming regional events will feature member presentations, group discussions and site tours from hosting organizations. Each event has a very interactive agenda to engage attendees, sponsors and presenters throughout the day.
CCNG partners sponsoring these upcoming fall events include Plantronics, Aspect Software, inContact and Five9. For details on how to attend, guest pass availability and membership options, please contact Ginger Graber, ggraber(at)CCNG(dot)com.
View program details at – http://www.CCNG.com.
CCNG International Inc.
Founded in 1992, CCNG International Inc., CCNG is a member Professional Peer Network (PPN) for Contact Center and Customer Service Executives, Managers, and Leaders. Within the CCNG Member Network, Contact Center and Customer Service Professionals:
Connect for networking and sharing best practices.
Interact to enhance their professional network and gain valuable insight into Contact Center and Customer Service best practices and technology.
Share their experience and ideas contributing to the valuable discussion. All Call Center, Contact Center, Customer Care, Customer Service, and Customer Experience Professionals are invited to participate in the CCNG Member Network.
For more information about the CCNG Member Network and to gain access, please visit CCNG.com. "Like" us on Facebook and follow us on Twitter @CCNGNetwork.
# # #