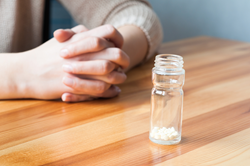 An addict who is craving drugs will feel like life itself is dependent on getting and taking their preferred drug.
Canadian, Oklahoma (PRWEB) October 06, 2014
Narconon Arrowhead, the Oklahoma-based drug rehabilitation center is releasing new and vital information on addiction recovery. Based on decades of experience in the field of chemical dependency, program outcomes and recovery results, Executive Director Gary W. Smith has written a concise, informative and easily understood treatise on addiction; its cause and its solution. The information is vital for any individual seeking to understand the mechanics of addiction, and how to help themselves or another achieve and attain lasting sobriety.
Drug Cravings
For many reading this newly-released publication, The Life Cycle and Mechanics of Addiction, the information will be thought-provoking and provide a new look at addiction. It will also provide hope and a workable address to the problem of addiction and its resolution.
As an addict knows, cravings for the substance to which they are addicted act as a formidable barrier to overcoming addiction, and maintaining sobriety once attained. Many addicts, despite numerous attempts to get sober and stay sober, are unable to overcome the barrier of drug cravings. They consequently succumb to the cycle of relapse and reversion.
Fortunately, Smith identifies cravings as The First Barrier to Recovery, and addresses the issue in depth. Cravings are the uncontrollably strong urges to use alcohol or drugs which drive the addict to use addictive substances once again.
For those who have not personally experienced drug cravings, Smith presents us with an analogy; something similar in nature that we have all experienced—uncontrollable hunger after having gone long without food.
He points out that the craving for food, while driven at a physical level, also stimulates the memories of eating food, followed by the compulsion or strong desire to consume it. Moreover, when very hungry, the person will think about favorite foods; and when hungry enough—they can sometimes even smell and taste it.
Continuing to go without food, the person will experience even more compelling thoughts of eating, as well as the physical discomforts of shakiness and a growling stomach, causing discomfort enough to drive the person to seek food—and to eat it. Once consumed, the hunger pangs abate, and the individual feels good to have satisfied their hunger.
Thus it is with drug cravings; but the desire to use drugs is even more intense and much stronger than our example of that which a person experiences when driven by hunger.
The First Barrier to Addiction Recovery: Cravings
An addict craving drugs will do and/or say almost anything in order to get the drug he or she needs to handle their intense cravings. Once their craving is satisfied, he or she will experience relief. But once the drug wears off, the relief is gone, and the craving returns.
While Smith points out that some cravings and withdrawal symptoms stem from the poor nutrition and vitamin depletion that follows substance abuse, cravings and withdrawal symptoms may also stem from toxins (substances the body perceives as poisons) accumulated from repeated drug use.
Such toxins stress the body's systems, resulting in aches, pains, fatigue, and unclear thinking. The addicted person has already adopted the solution of medicating their physical or mental problems with drugs; continuing to use drugs as the solution whenever they feel poorly.
As a result, attempting to handle addiction by using more drugs only serves to worsen the problem.
Smith cites the revolutionary discovery of American author and humanitarian, L. Ron Hubbard, who found in the late 1970s that drug metabolites (the product remaining in the body after it has broken-down a substance so it can be eliminated) and other toxins were stored in the body fat cells.
Hubbard found these stored metabolites and toxins had the continuing effect of locking addicts in their addictions; that eliminating these stored deposits was a key to an addict's full recovery.
This discovery was a critical forward step in the effort to resolve drug cravings.
The Life Cycle and Mechanics of Addiction details further information on how these drug metabolites in the body and bloodstream contribute to drug-related experiences and discomforts from the person's past; thereby causing the addict to be prone to using drugs or alcohol again at these times.
It is a vital read for anyone seeking to understand addiction and its resolution.
For a copy of The Life Cycle and Mechanics of Addiction, please visit http://www.stopaddiction.com.