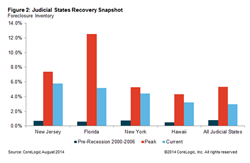 Chicago, IL (PRWEB) October 05, 2014
Peoples Home Equity was intrigued by an October 2nd Corelogic release titled "National Foreclosure Inventory Down 33 Percent Nationally From August 2013." As the title self explains, foreclosure inventories has decline immensely since last year.
Peoples Home Equity thinks from a housing market perspective, a 33% decline in foreclosure inventory sounds just about as uplifting as 5.9% unemployment. August marked "34 months of continuous year-over-year declines in the inventory of foreclosed homes, including 19 straight months of declines greater than 20 percent." Due the higher number of Americans employed "seriously delinquent inventory fell to 1.6 million loans, a 21.7-percent decline from August 2013."
The 5 best performing that "with the largest year-over-year drop in the foreclosure inventory were: Utah (-46 percent), Idaho (-45.6 percent), Arizona (-44.5 percent), Florida (-43.6 percent) and Iowa (-42.6 percent)." The entire U.S.A. seem to have done as well "forty-nine states posted declines in the foreclosure inventory from a year ago, with 44 states showing decreases of more than 20 percent." Interestingly, "The District of Columbia and Wyoming saw year-over-year increases in foreclosure inventory."
Peoples Home Equity reminds readers that a large factor gauging the improvement of high inventory foreclosure areas is the judicial process of the region. Corelogic states that "Judicial foreclosure states measure, on average, continue to have higher foreclosure rates than non-judicial states, averaging 2.9 percent and 0.8 percent." Why, because "in judicial foreclosure states lenders must provide evidence to the courts of delinquency in order to move a borrower into foreclosure. In non-judicial foreclosure states, lenders can issue notices of default directly to the borrower without court intervention." Corelogic provided a graphic of foreclosure inventory levels between 2000-2006, its peak, and its current state in August 2014. One can easily see that while foreclosure inventories have improved since their peak they are still remain far above pre-recession levels.
Peoples Home Equity expects to see a continuation and acceleration in the decline of foreclosure properties. Either the homeowners are evicted or they are able to make the mortgage payment due to the improved labor market.
Readers who are thinking of purchasing a foreclosed home should be aware that the market is flooded with cash buyers. Individuals thinking to purchase a foreclosure property via a home loan should obtain financing as soon as possible. Peoples Home Equity offers its "Home Loan Quick Qualifier" field on the home page of its website to make the application process easy.
If interested in a home loan and are seeking to speak with a person, contact a Peoples Home Equity loan officer today at: 262-563-4026