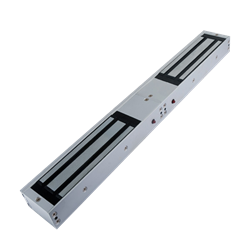 (PRWEB) October 05, 2014
Locks-Magnetic.com, a leading magnetic lock company, has announced its new collection of double door magnetic locks. According to the marketing specialist of the company, these quality items are affordable.
Recently, the company has started its special offer on these newly revealed double door magnetic locks. The company's top experts insist that low prices do not always come with poor quality, and they are working hard to make more cost-effective electronics accessories for new and old clients. All of its items are priced reasonably.
"We are happy to release our new double door magnetic locks. In the past few years, Locks-Magnetic.com has received lots of comments from worldwide clients. We decided to launch the promotion to acknowledge all of our consumers. Please note that the special offer will come to an end on soon. Locks-Magnetic.com is one of the leaders in the field, so you can certainly trust us," the company's sales representative.
Some detailed information about the company's double door magnetic locks is as follows:

Lock Size: 530Lx73Wx40H(mm)
Armature plate: 185Lx60Wx13H(mm)
Holding Force: 500kgx2(1200Lbsx2)
Voltage: DC12V or DC24V+10%
Current Draw: 12V/420mA x2 24V/210mAx2
Signal Output: Dry Contact,Max Rating of Contact Current 3A
LED: Red indicates the door is unlocked, Green indicates the door is locked
Suitable for: Wooden doors, Glass doors, Metal doors, Fireproof doors
Surface Temp: ≤+20℃
Operating Temp: -10~+55℃(14-131F)
Suitable Humidity: 0~95%(non-condensing)
Finishes for Shell: Anodized aluminum
Finishes for Magnetic: Zinc
Finishes for Armature: Zinc
Weight: 9kg
About Locks-Magnetic.com
Locks-Magnetic.com is a leading online store of high quality magnetic lock products. With an aim of offering the most affordable and convenient products, the company often announces new innovative products. In addition, it launches big promotions at its one-stop-shop website frequently. Customer service is the top priority of this professional supplier.
More details about the company and its high quality products can be found at http://www.locks-magnetic.com/Magnetic/500KG/30.html.