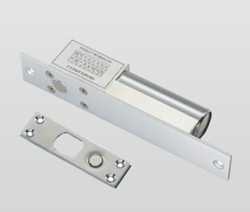 (PRWEB) October 05, 2014
Locks-Magnetic.com is a outstanding supplier of electronic locks. The company is committed to designing and manufacturing practical and cheap products for worldwide clients. Recently, the company has launched a special offer on its newly released 2 wire electronic bolt locks. All of the new items are now offered at discounted rates, up to 30% off.
The company's development manager states happily, "We are excited to announce our new 2 wire electronic bolt locks. We launched the big promotion to show our appreciation to worldwide distributors. It is time for us to buy some practical items to keep our houses safe. It is absolutely a wise choice for clients to visit our online shop before making any shopping decisions. All of our items are of high quality and offered at acceptable prices."
Locks-Magnetic.com understands that every customer has a unique set of needs when it comes to electronic locks. Now, it is working hard to make more excellent items. A lot of its electronic locks are popular in the market.
The 2 wire electronic bolt lock is designed for wooden doors, metal doors, uPVC doors and so on. Some of the product description of the 2 wire electronic bolt locks is as follows:

Lock Size: 150Lx39.5Wx28H (mm)
Structure: Stainless Steel
Holding Strength: 500kg
Voltage: DC12V
Current: 450mA (NO); 200mA (NC)
Option: Fail Secure (NO) ;Fail Safe (NC)
Suitable For: Wooden Doors, Metal Doors, uPVC Doors
Surface Temperature: Within +20℃
Suitable Temperature: -10~+55℃
Operating Humidity: 0~90% (non-condensing)
Face Plate Housing: Painted Steel
Bolt Housing: Stainless steel, Draw the Polishing of silk
Function: Built-out MOV
Weight: 0.4kg
About Locks-Magnetic.com
Locks-Magnetic.com is a leading online store of high quality magnetic lock products. With an aim of offering the most affordable and convenient products, the company often announces new innovative products. In addition, it launches big promotions at its one-stop-shop website frequently. Customer service is the top priority of this professional supplier.
More details about the company and its high quality products can be found at http://www.locks-magnetic.com/Electric_Bolt/2_wire/40.html.