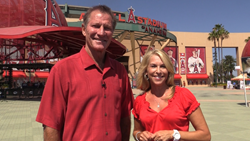 "...I think our Angels fans will truly enjoy this in-depth visit and see what all goes into an everyday game at the stadium. It's a great show for the true fan," said Bobby Grich
Anaheim, CA (PRWEB) October 08, 2014
Discover Orange County™ (DOC) with Lisa Hart, host of the TV Series on PBS SoCal and Cox Communications, will take its viewers on an exhilarating, behind-the-scenes tour of Angel Stadium of Anaheim on Sunday, November 2, 2014 at 6pm on PBS SoCal Plus, as the 2014 baseball season wrap up. Hart will be giving an all-access pass that goes beyond a typical game day set up and goes into the equipment room, the clubhouse, digital scoreboard operations, suites and offices of the Los Angeles Angels of Anaheim staff, providing a detailed look at how everyone makes game day happen. Hart will be joined by Bobby Grich, former Angels All-Star 2nd baseman and former player for the Baltimore Orioles.
"Orange County's die-hard Los Angeles Angels of Anaheim fans are enthusiastic about baseball, and we're planning to give them the VIP treatment as we talk to the people who make game day the thrilling experience that it is," said Hart. "Each game is filled with hard work and unparalleled dedication of Angels staff and front office associates, so we wanted to offer fans more than just a glimpse into the Angel Stadium."
DOC will be joined by Grich, a former Major League Baseball player, giving an honest and realistic look at the exciting details of a typical baseball game set up, including secluded celebrity entrances, underground passageways, private elevators, and tunnels. Also, Grich will give Hart her own star treatment as he introduces her to the backstage professionals who make game day a reality at the 30-year-old stadium, home of the 2014 AL West Division Champs. Angels staff interviews will include Brian Sanders-Senior Director of Ballpark Operations, Peter Bull-Manager of Entertainment and Production, Keith Tarter-Equipment Manager, Barney Lopas-Field/Ground Maintenance Manager, David Lippman-General Manager, and Gretchen Beaumarchais, Executive Chef, Legends Hospitality.
"Fans are going to get a real kick out of this tour, especially with Bobby Grich by my side. Grich is a well-respected icon in the world of Major League Baseball, who made this special tour an even better occasion," said Hart.
Grich, DOC guest co-host said, "...I think our Angels fans will truly enjoy this in-depth visit and see what all goes into an everyday game at the stadium. It's a great show for the true fan!"
Discover Orange County™ was originally created in 2010 by award-winning television Producer and Writer Michelle Merker, and Director Dan Donley. Hart is the current owner of DOC and SoCal TV & PR produces the TV Series. DOC spotlights Orange County and surrounding areas as they deliver viewers an exhilarating and intimate look at what makes Southern California an exciting destination.
Discover Orange County™ is a privately produced television program that focuses on places to go, things to do and goes behind-the-scenes of popular hot spots in Southern California. The 30-minute program takes viewers on a journey through Orange County and its surrounding cities. Funding for the series is provided by private sponsorships available through Discover Orange County™ at info(AT)discoveroctv.com. This episode is currently sponsored by; Yanks Air Museum, OC Breast Wellness/SureTouch.us, The Right Hair Salon and Lion's Heart.
For more information on Discover Orange County™ visit http://www.discoveroctv.com
Facebook: Discover Orange County™ Twitter: @DiscoverOC1
For Media Inquiries, Interviews, and Speaking Engagements, please contact:
Yvette Morales
YM & Associates
PR | Marketing | Branding | Business Development
640 South San Vicente Blvd - Suite 321
Los Angeles, CA 90048
California/New York
949.244.9769
YMoralesY(AT)YM-PR.com
http://www.YM-PR.com
@YMTheBevHillsPR