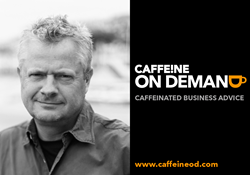 Business is about customers. Everything else is secondary. Caffeine on Demand won't give paperwork or tax advice, but it will help people win new customers, win more business from existing customers, negotiate better deals, and be more persuasive.
London, UK (PRWEB UK) 13 October 2014
Getting useful business advice and learning new skills is now as easy as buying a cup of coffee and not that much more expensive than buying a round of hot drinks.
Announcing the launch, Caffeine on Demand's founder David Kean said:
"We are the first major business growth consultancy to branch out in this way, offering online courses of practical advice and relevant skills training that's usually restricted to those in senior positions in global corporations.
"A lot of available business advice is simply not fit for purpose," Kean continued. "It's either from government agencies and focuses on admin and form-filling or it's from TV 'business-celebrities' who are all about their own needs, rather than those of their viewers.
"A great deal of what's on offer is not practical or experience-based and is often worse than useless in its gloomy, turgid tone. For example, the first item, centre page, you find on the government business advice site is 'business debt and bankruptcy'. Hardly an incentive to the would-be entrepreneur and not very useful unless you've already failed.
"Business is about customers. Everything else is secondary. Caffeine on Demand won't give paperwork or tax advice, but it will help people win new customers, win more business from existing customers, negotiate better deals, and be more persuasive.
"Running a business is one of the most exciting and noble challenges that anyone can take on. We know that because we have done it. We believe in the transformative power of business; by providing affordable, readily available advice via Caffeine on Demand we can help people – and businesses - grow and prosper."
Caffeine on Demand's online training courses are a mix of video, worksheets, questionnaires and infographics and cover salesmanship, building rapid rapport, pitching to win and presentation skills.
The courses cost £25 each and are available to download at http://www.caffeineod.com. Further courses coming soon.
CAFFEINE ON DEMAND COURSES
Pitch to Win 60 mins
All businesses have to be able to persuade people. Too many pitches fail to dazzle and shine. This training programme has been designed to make pitching a pleasure by demonstrating the eight skills to make your pitch more likely to win the hearts and minds of your audience, and tip the playing field massively in your favour.
Building Rapid Rapport (60 mins plus interactive personality test)
In business, it is vital to be able to get on with people – clients, customers, colleagues. Most business problems and opportunities come down to how you get on with other people. Building Rapid Rapport will show you how to be you, but better, and how to identify people who are not like you...but still be able to click with them so they want to buy from you. Understanding how rapport works is the bedrock of far more effective communication.
Brilliant Presentations (48 mins)
Why are most presentations so prosaic? Presenting brilliantly is one of the last true differentiators left to many of us in business where products and services have become so samey. Most presentations are utterly dreadful – banal, over long, tedious and directionless. How refreshing, then, to create and deliver a stunning presentation which arrests attention from the start and never lets go until the last breath. This training programme shows you how to structure such a presentation, how to create it and deliver it so you conquer nerves, banish audience boredom and communicate with crystal clarity so the audience actually act.
Salesmanship (1 hour 10 mins with supporting reference material)
Salesmanship is an art form where, when it is done brilliantly, is a pleasure to experience. This training course will show you how people buy, how your expertise has a value to them, how to structure a proper sales conversation, how to ask questions and listen for answers, how to ask for the business and answer objections calmly and when to sell. It will coach you through the most essential skill in business so that it becomes natural rather than forced, nuanced rather than obvious.
Courses coming soon...

Negotiating for Non-negotiators
Selling More to your Customers and Clients
THE CAFFEINE PARTNERSHIP
Launched in 2007, Caffeine specialises in helping businesses, brands and people grow fast. The company's mission is to stimulate business with straight-talking tools and ideas to create growth and boost profits. The company has helped businesses win over a $ Billion in revenues. Clients include Nissan, CBRE, BNP Paribas and Ogilvy & Mather.
CAFFEINE SPECIAL ADVISORS
o UK's leading "Pitch Doctor".
o Has advised clients including Nissan, McLaren, FIFA, BNP Paribas and Ogilvy & Mather.
o Helped clients generate over a $Billion in new revenues with wins of brands including UPS, Carlsberg, Philips, IHG, UK Treasury and SC Johnson.
o Described in British Airways magazine as "the best and most merciless critic of flabby presentations you'll come across".
o Author of: Pitching to Win – The Art of Winning New Business; How to Win Friends and Influence Profits: The Art of Winning New Business from Your Clients.
Andy Milligan
o Author of five best-selling business books: BOLD How to be brave in business and win; Brand it like Beckham; Don't Mess with the Logo; See, Think, Feel, Do – the power of instinct in business; Uncommon Practice.
o Experience spans industries as diverse as airlines, financial services, packaged goods, telecommunications, sports and leisure and pharmaceuticals. He has directed major programmes in Japan, South Korea, Singapore, the USA and throughout Europe. Clients he has worked with include Unilever, Thai Airways, Orange, Intercontinental Hotels, Nissan, Barclays, FIFA, Sage, Arcadia, Avon and Roche.
o Regular media pundit - regularly on CNN, BBC, and CNBC and is also a regular speaker at conferences internationally.
Louisa Clarke
o Caffeine Partnership head of training.
o 20 years' communications, business and brand expertise.
o Headed up the UK Consumer Practice of the World's largest PR consultancy firm before joining Caffeine.
o Ran the EMEA P&G relationship for several years and led programmes for such blue chip organizations as Nestle, Sara Lee, PepsiCo, Hay Management Consultants and McCain.
Ged Equi
o Former Creative Director of the brand experience team at Interbrand, responsible for creating the brand identities of Oxfam, Volvo, Eurostar, BiC, Astra Zeneca, oneworld, LondonEye, FIFA, BNP Paribas and the United Nations.
o Juror on many industry award panels, with high-level experience in brand strategy and identity, digital design, packing, literature and exhibition design and new product development.
o Contributor to magazines such as Design Week and Creative Review, regular speaker at industry events, including the Chartered Society of Designers Forum and the Young Designers Forum.
Jez Fraser
o Digital expert whose experience includes multiple online projects and platforms for clients such as BTWholesale, BT Global services, The Telegraph, Black & Decker, UbiSoft, Mattel, Dairycrest, Channel 4, The Football Association and Papa John's pizzas.
o Led creative teams at high profile creative agencies including Imagination, Peter Saville, Pentagram & Interbrand for clients including AstraZeneca, The ATP, FIBA, FIFA, Natura Cosmeticos, British Airways and Orange (EE).