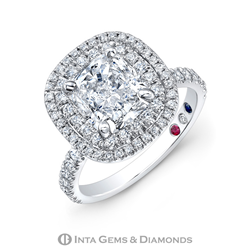 Booko said, "This is an important year in Nia's life. No matter what happens in our lives, for always and forever, Nia is my love and my beauty queen for life."
New York, NY (PRWEB) October 06, 2014
Will you marry me? Miss USA said "YES!" and is now officially engaged!
Actor Daniel Booko proposed to the reigning national titleholder, Nia Sanchez, with an engagement ring designed by Peter Pheng Young of INTA Gems & Diamonds. Booko purchased a breath-taking, white, 2-carat, VVS clarity, cushion cut center diamond set in platinum. The diamond engagement ring is named "The Nia Ring."
Booko was planning a marriage proposal months before Sanchez was to compete at the 2014 nationally televised pageant. Then on June 8, 2014, an extraordinary event happened in both of their lives. Sanchez won the prestigious national title in Baton Rouge, Louisiana.
Even with both of their busy schedules, Booko and Sanchez have been able to spend quality time with each other with cross-country trips over the past several months while she lives in New York and he lives in Los Angeles.
Secretly, while Sanchez was living in New York and traveling around the country, Booko continued his engagement ring search and marriage proposal planning. With the help of friends, Booko was referred to INTA Gems & Diamonds, the official crown jeweler of Miss California USA. Together with the owners, Jerry and Connie, and their sons Steve and Peter Young, they chose the perfect diamond for Sanchez.
Booko said, "It was great to be able to choose a high-quality diamond and design Nia's engagement ring setting at INTA Gems & Diamonds. I truly enjoyed working on custom designing Nia's ring in a warm, family environment with Jerry, Connie, Steve and Peter Young in the Los Angeles Diamond District. I am very excited to propose to Nia!"
After the center diamond was selected, Peter Pheng Young began designing "The Nia Ring."
Young said, "This is a special American engagement ring for a very special American couple. It is a tremendous privilege for INTA Gems & Diamonds to design Nia and Daniel's historic engagement ring. The sparkling center stone is absolutely gorgeous like Nia! After listening to Daniel, I wanted their engagement ring to not only be beautiful, but also have special meaning to both of them."
Throughout Booko and Sanchez's engagement ring, Young incorporated subtle design elements to identify it as "The Nia's Ring." The center 2-carat diamond is surrounded by forty-nine sparkling white diamonds in the gallery, ring shank and halos. The two halos represent both of them holding the sparkling diamond symbolizing the center of their love. Together, a total 50 brilliant diamonds symbolize the 50 states of the United States.
There are other special touches to ring including an elongated, modified "U" that stands for USA which can be seen from the side profile that holds the diamond.
On the inside ring shank are a red ruby, a white diamond, and a blue sapphire painting the national colors of American flag that will forever touch Nia's ring finger. Young designed "The Nia Ring" to have the red, white and blue gems set on the inside of the ring because it is believed that the vein called the "vena amoris," Latin for vein of love, runs directly from the left hand to the heart. It's a patriotic reminder of all the Americans who support Nia and Daniel's love and marriage together.
Booko said, "This is an important year in Nia's life. No matter what happens in our lives, for always and forever, Nia is my love and my beauty queen for life."
Booko surprised Sanchez with the ring and romantic marriage proposal on a beautiful, private terrace overlooking the skyline of New York City. A joyful, teary-eyed Sanchez said "YES!" and immediately embraced Booko. They were joined by several of Daniel and Nia's best friends who flew in from across the country and overseas to witness the couple's heart-felt moment.
****
Nia Sanchez is the reigning Miss USA 2014. Nia will be represent the USA and will compete for the title of Miss Universe in Doral Miami, Florida on January 25, 2015. Sanchez is a fourth degree black belt in taekwondo She had visited 13 countries around the world before becoming Miss Nevada USA and subsequently winning the national title. For more information, visit http://www.missusa.com
Daniel Booko has worked in Los Angeles as a professional actor for 10 years. He has had roles on multiple television shows including iCarly, Desperate Housewives, Hannah Montana, Kicking it, etc., as well as many movies. His latest roles are leads in both Eyewitness, set to come out March 2015 on Lifetime Channel, and Superfast, set to come out in theaters in 2015.
INTA Gems & Diamonds is a family-owned and operated jeweler in the Los Angeles Diamond District in Downtown Los Angeles. Founded in 1998, by Jerry and Connie Young, they work with their sons Steve & Peter Young. INTA Gems is the Official Crown Jeweler of Miss California USA. Peter Young is an accomplished jewelry designer who graduated from the renowned Gemological Institute of America (GIA). His designs have been worn by for celebrities and original designs have been archived in the GIA Museum. For more information, visit: http://www.intagems.com