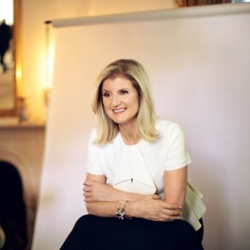 I'm looking forward to continuing to open up the conversation about how we can live our most authentic lives and thrive. - Arianna Huffington
Seattle, Washington (PRWEB) October 07, 2014
Named by Forbes as one of the most powerful women in the world, Arianna Huffington is an influencer in the realms of politics, news, and business. Arianna speaks to Women For One about life experience, the power of each of our stories and how to embrace adversity each day of our lives.
Founder Kelly McNelis recently said, "Women For One's vision is to build a global community through authenticity and inspiration. Arianna Huffington is perfectly aligned with Women For One's work because she asks each of us to get in touch with who we truly are through reflection and action, pursuing the best way to live an authentic life."
In her interview, Arianna states, "I'm looking forward to continuing to open up the conversation about how we can live our most authentic lives and thrive. I'd love to bring more and more voices into the conversation all around the world." She gives practical steps for growth in addition to fascinating ideas and heartfelt advice. Additionally, Arianna's new book, Thrive, shares practical wisdom and insights for living joyfully in our daily lives amidst the fast paced environment of the western world.
As the Co-Founder and Editor-In-Chief of The Huffington Post, Arianna influences the world through a news and information website recognized as one of the most widely read and cited media portals on the Internet.
Women For One is a global movement of authenticity and inspiration focusing on women empowering themselves and taking action in their lives. Our community focuses on truthtelling, the sharing of our stories in order to create an inspired future vision for ourselves and the world.
At womenforone.com, our community is built upon a series of interviews with powerful leaders and spiritual thinkers in media, politics, literature, business, and personal development. Some of Women For One's most notable interviews include: Dr. Maya Angelou, Marianne Williamson, Gary Zukav and Amanda Palmer. The Women For One community empowers women with the knowledge that they have the power to affect change in their lives personally and globally.