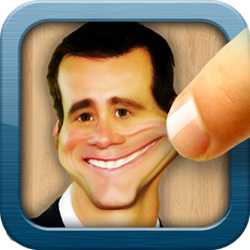 (PRWEB) October 06, 2014
A recent marketing tool from Tonuzaba Entertainment illuminates the hilarious abilities of its Photo Warp app now optimized for Intel® Atom™ Processor-based tablets for Android*.
The brochure describes the ways that users can distort their body parts into life-like but cartoonish caricature. The interface offers smooth manipulations like twirl, bloat, pinch and a brush that can be sized or used to gently wipe photos back to their original shape. Easy to use and hours of fun, the Photo Warp application is a creative toy that lets friends mold and mangle portraits to share a laugh.
The publication notes that the application enjoys an even wider audience with the recent optimization for Android* tablets and that the expressive entertainment can travel anywhere.
About Tonuzaba Entertainment:
Tonuzaba Entertainment is an independent Hungarian developer with a long history in game, mobile application, and promotion technology development. To learn more about Tonuzaba Entertainment check out the website, or contact us at contact@tonuzaba.com
About the Intel Developer Zone
The Intel Developer Zone supports independent developers and software companies of all sizes and skill levels with technical communities, go-to-market resources and business opportunities. To learn more about becoming an Intel® Software Partner, join the Intel Developer Zone.
Intel, the Intel logo and Intel Inside are trademarks of Intel Corporation in the U.S. and/or other countries.
*Other names and brands may be claimed as the property of others.
Copyright © 2014 Intel Corporation. All rights reserved.