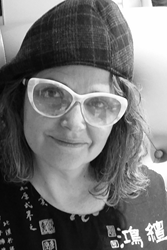 This will inevitably reduce the epidemic of recidivism and help young people in dire need."
New York, NY (PRWEB) October 13, 2014
Artist and teacher Elizabeth Josephson is on a mission to find mindfulness techniques to help her students. Josephson has taught on Rikers Island for the past 15 years and is taking time off to visit Kathmandu. She will study and document how boarding schools and monasteries in Nepal use mindfulness to educate students.
"What I'm looking for is how to improve the well-being of young inmates, to give them a sense of emotional and mental freedom," Josephson said. "Through painting, drawing and video, I will be doing an in-depth study of mindfulness practices. I will see how mindfulness applies to students and lamas of the Tibetan Buddhist tradition, and then proceed to roll it back into the prison community."
Josephson chose the monastic communities in Nepal because they have a number of similarities to the prison community of Rikers Island. They both are same-sex communities with restricted access to the outside world and a highly regulated routine. Most of the students are similar in age to the students on Rikers Island and come from low-income backgrounds.
Josephson defined mindfulness as a process of deepening your awareness, paying attention to something as simple as watching your feet walk or observing your anger. Mindfulness has been shown to help improve focus, increase clarity, develop impulse control and improve emotional strength.
Josephson has been an exhibiting artist in New York City for the past 20 years and explained that mindfulness is the underlying driving force in her work. She also has found art to be a useful method in helping her students understand mindfulness. The art component to her project will include a series of portraits of lamas and students. This intimate exchange between artist and subject will be the primary focus of the film.
"As I paint them, I will be asking questions regarding how mindfulness has been implemented in their lives and how they have learned from the process," she said. "It's a very special dialogue that happens while you're painting because both the subject and the artist create a unique trust between one another. Essentially they are sharing a creative mindfulness together."
This footage will be used to create a short film that will be shown to newly admitted inmates during orientation. The purpose will be to inspire and give them hope as they begin their stay and education process in jail.
"Filming this project is important because it can be used as a basis to improve the emotional and intellectual well-being of our prison community," Josephson said. "The focus of this research is directed to incarcerated youth; applying these concepts as early as possible will help develop their academic strength and emotional flexibility. The individual ultimately will be able to use mindfulness techniques as he transitions from prison back into the community. This will inevitably reduce the epidemic of recidivism and help young people in dire need."