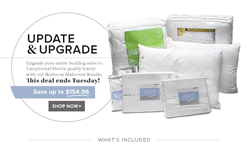 These bundle deals are, by far, the best deal in the history of our company and are meant to update and upgrade your entire bedroom with our finest bedding products
Evansville, IN (PRWEB) October 06, 2014
eLuxurySupply.com is excited to announce the company's biggest opportunity to date for customers to save big on a variety of their luxury bedding products in one large bundle offer. On October 5, 6 and 7, the online luxury linen retailer is offering a "Bedroom Makeover Bundle" for customers looking to "update and upgrade" their current bedding.
Kyle Schmidt, E-commerce Manager for eLuxurySupply, says that this is the first time that the company has offered a complete bedroom set for their customers to purchase for one discounted price.
"These bundle deals are, by far, the best deal in the history of our company and are meant to update and upgrade your entire bedroom with our finest bedding products," said Schmidt. "For one low price, we're offering one of our mattress pads, sheets, a duvet cover and duvet, pillows and more to completely revitalize your sleeping experience," he said.
The "Bedroom Makeover Bundle" includes a White Down Alternative Comforter, an Extra Plush Bamboo Pad, 2 Down Alternative Pillows, a 400 Thread Count Duvet Cover, a set of Ultra Soft Bamboo Sheets and 2 Waterproof Pillow Encasements for one price. The bundles come in Full, Queen, King and Cal-King sizes and the customer can choose from a number of different colors for the sheet and duvet cover sets.
"This deal will save customers in upwards of $155 that they would have to pay to purchase all of these items separately, so this is a very special, limited time sale," said Schmidt. "With the new season upon us, we wanted to offer up a way for our customers to completely update their bedroom to improve their sleep for the better," he said.
The bundle packages vary in price per size, with the Queen set being sold for $309.99, the King size for $329.99, the Full for $299.99 and the Cal-King for $329.99.
About eLuxurySupply.com
eLuxurySupply.com is a United States Veteran Owned and Operated company based in Evansville, Indiana that is quickly becoming one of the internet's most trusted and successful luxury superstores. eLuxurySupply is a Sam Tucker LLC owned and operated business and for any questions, comments or concerns, please call 1-800-977-7433 or email service(at)eLuxurySupply(dot)com.