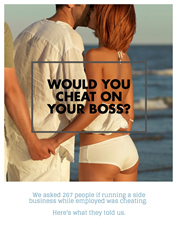 We had a ton of fun doing this survey. Our favorite response was the person whose side business was providing a mobile exotic dance service. Sadly, this individual chose to remain anonymous!"Stijn Hendrikse, CMO and Managing Director, MightyCall
Seattle (PRWEB) October 07, 2014
A recently completed survey of 267 respondents showed that there is no longer a taboo associated with people owning a side business while holding down a day job.
But there were a few caveats.
Most drew the line at competing with their bosses, while others worked hard to make sure they do not tend to their own businesses on their employer's time.
The survey was conducted by MightyCall, a Seattle-based Cloud company that helps small businesses earn customer trust from the first "hello". A quick-glance info-graphic is available for those who don't have time for the survey report.
About half of the respondents ran their own side business because they needed another income stream but didn't want to take on a second job.
Only 5% of those surveyed said they "cheated" because they hated their boss.
Media Contact:
Edmund Tee
Vice-President
Communications & Customer Success
ET at mightycall dot com
Boilerplate:
MightyCall helps small businesses earn customer confidence from the very first "HELLO". We know how important it is for small businesses to give their customers a great first impression and to earn customer trust by following up reliably on every outreach.
How can we be so sure? Because we're a small business too, and we live this each and every single day.