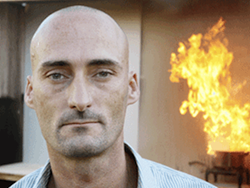 Like airbags for cars, SensorJet should be in every home.
Auckland, New Zealand (PRWEB) October 07, 2014
Sprinklers are in every school, hospital, shopping mall, office building, and library around the world, but what about family homes?
A few years ago, Graham Munro, a New Zealand businessman, almost burnt his house down after he got chatting to a neighbor over the fence and forgot the breakfast he'd left frying in the kitchen.
Luckily, he went back inside before his fry-up flames had caught hold, and he was able to put it out with only minor damage.
But the close call got Munro thinking: what if he hadn't come back inside in time?
Munro began researching the home fire problem and found that, in the US alone, there were over 3000 deaths, 13,000 injuries and $6.7 billion in property damage in 2011. Up to half of all house fires start in the kitchen. Sprinkler systems work, but they are so expensive that virtually no one installs them in their home.
Then Munro realised that by using the existing mains water plumbing, the kitchen fire problem could be solved for a few hundred dollars, rather than many thousands for sprinklers.
This sparked a revolutionary idea which he called SensorJet: a low-cost, easily-installed fire-suppressing invention that is now patented in major markets, including the US and the EU.
The SensorJet system involves two components: a fire sensor on the ceiling, and a bench-mounted water jet that rises up and sprays a fine mist of water when the ceiling sensor detects a fire.
Pouring water on a fat or oil fire is a big no, but SensorJet's cool mist displaces oxygen and smothers the fire.
Once he'd figured out the basic concept, Munro built a test-kitchen in the yard of his home. One test drew a crowd of anxious neighbors, one of whom was on the verge of making an emergency call as flames leapt metres into the sky above a pot of burning cooking oil. After SensorJet's automatic activation, the flames died out in a cloud of white steam and, as the ceiling temperature fell, SensorJet switched itself off. If there's no one around to turn off the stove and the fire reactivates, SensorJet kicks in again and again.
After a few years of product development, Munro produced a prototype reliable and safe enough to begin fund raising to bring the product to market.
Until now, the only automatic fire suppressant device available for homes has been a fire sprinkler system, which can cost over $10,000.
The SensorJet unit, by contrast, retails at around $499, and is as easy to install as a kitchen faucet.
Munro believes SensorJet is an ideal fire-safety solution for every home, and has the potential to be become as commonplace as airbags in cars.
Website - http://www.sensorjet.com
Indiegogo - https://www.indiegogo.com/projects/sensorjet-smart-home-fire-safety