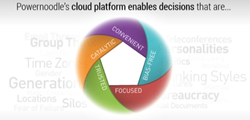 "The Powernoodle platform has driven hundreds of decisions across thousands of stakeholders and our customers report they are 87% more effective in producing a prioritized set of initiatives..."
Stratford, Canada (PRWEB) October 06, 2014
Powernoodle announced today the launch of its redesigned decision-making software, Powernoodle 2.0. Building on its award-winning technology, the new cloud based platform includes decision-science technology and a new mobile interface delivered on tablets.
Version 2.0 is the latest advancement in Powernoodle's successful technology for better decision-making. The Powernoodle Decision Space is bias-free and designed to overcome organizational and personal barriers such as Group Think, Evaluation Fatigue and Cognitive Overload. These biases and barriers often derail the decision-making process, resulting in ill-advised program approvals. "They hinder every organization," said Deb Krizmanich, Powernoodle CEO, "especially enterprises with complex or distributed structures."
"The Powernoodle platform has driven hundreds of decisions across thousands of stakeholders and our customers report they are 87% more effective in producing a prioritized set of initiatives and 93% more efficient when compared to how they would have approached a similar decision in the past. While most organizations value diverse inputs on decisions," says Krizmanich, "they are often without the means or processes to capture and apply them effectively and consistently. That's exactly where Powernoodle adds value."
Powernoodle has a number of projects with large customers in industries such as technology, government, NGO, financial, engineering, healthcare and an international sports league. In each case, the organization's stakeholders participate in decision making from a variety of time zones and corporate/geographic cultures, and do so with ease and efficiency with more objective decision outcomes.
User Experience Improved for Better Decisions: Easier, Faster, Smarter
Based on three years of customer feedback, users of Powernoodle 2.0 will experience important platform enhancements:
1-Mobile Responsive
The new interface is fully optimized for tablets, facilitating faster Decision Space creation and participation – in the office or on the go.
2-Powerful Tagging Capability
Users now have the flexibility to organize ideas and insights with customizable tags, groups and colors. Project, risk and requirements management as well as continuous improvement Decisions Spaces are now accessible by business and technology teams who know collaboration is the only way to get the best results for their programs.
3-Decision Science Upgrades: On the Forefront of Idea and Decision Management
Decision-making science has evolved signicantly in recent years. Insights and results of this research is incorporated into Powernoodle 2.0, to avoid and solve problems like ordering bias and decision fatigue. In addition, powerful search functionality makes it easy to find and manage ideas and Decision Spaces.
4-Strategic Business Process Support
Powernoodle 2.0 helps transformational organizations make better decisions in a variety of business areas

Portfolio, Program and Project Management
Strategic Planning
Product Management
Structured Innovation & Continuous Improvement
Monitoring and Evaluation
Sales and Partner Management
Download the White Paper: Individual vs Group Decision-Making - Avoid the pitfalls and get the best results.

Better Decisions with Award-Winning Software
Powernoodle's innovative cloud-based platform has been recognized with awards such as:

"Top 100 Thought Leader in Trustworthy Business 2014" by Trust Across America
"Cool Vendor in Program and Portfolio Management 2014" by Gartner
Powernoodle has raised more than $3 million is private investment in the last two years.
Additional Resources

Connect with Powernoodle

Contact:
Melissa Durrell
melissa(at)durrellcomm(dot)com
519.500.4408
About Powernoodle
Powernoodle is the leading provider of decision-making software in the cloud. Unique to Powernoodle is the company's proven and patent-pending Decision Space model, a bias-free decision-making technology that encourages candor and diverse inputs for better decisions with greatly reduced risk.
Particularly effective for distributed organizations, Powernoodle's easy-to-use platform enables catalytic, focused decision-making that builds trust by lowering biases and barriers like Group Think, Evaluation Fatigue and many Cognitive Biases - ultimately driving better program decisions and greater revenue and profitability.
Established in 2010, Powernoodle is headquartered in Stratford, Canada. For further information, please visit powernoodle.com.