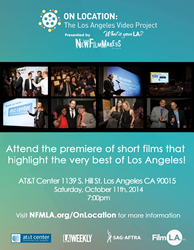 Los Angeles, CA (PRWEB) October 07, 2014
Nineteen short films highlighting the diverse beauty of Los Angeles will screen Saturday, October 11th, 2014 at the AT&T Center in Downtown Los Angeles during the 4th annual On Location: The Los Angeles Video Project program, presented by NewFilmmakers LA Film Festival. The short films will compete for cash and production prizes totaling over $65,000. The event will be hosted by actor/comedian Parvesh Cheena, who is a lead on the new NBC television series 'A to Z'. Some of his other notable credits include 'Barbershop' and 'Outsourced'.
Finalists will compete for a variety of prizes including a Grand Prize production package from Alternative Rentals. Additional prizes include film permits from Film LA; Movie Magic Budgeting 7 and Movie Magic Scheduling, a Chicago Music Library Licensing package, and cash prizes. Additional event sponsors include LA City Councilman Paul Krekorian, LA Weekly, Mole-Richardson, Film LA, LA City Councilman Mitch O'Farrell, and Variety.
Judges for On Location include producer Steven J. Wolfe (500 Days of Summer), Ilyanne Morden Kichaven (Executive Director of SAG-AFTRA), Paul Audley (President of Film LA), Amy Lemisch (Executive Director of CA Film Commission), and Dean Fluker (Agent - Resolution), and Newfilmmakers very own Larry Laboe (Executive Director), Susie Kim (Artistic Director), and Rosalind Helfand (CFO).
Selected finalists for the 2014 On Location: The Los Angeles Video Project include:
"LA in Bloom" - Director Dija Dowling
"Bird Man" - Director Angela Wilcocks
"Cinema Love" - Director Deborah Etta Robinson
"Felt Like Love" - Directors Hayley Taylor, Robert Roa, and Dannel Escallon
"What Does LA Mean to You?" - Directors Kelly Pantaleoni, Patrick Muniz
"Gargantua!" - Director Maria Sequeira
"The City of Lost Angeles" - Director Laura Monti
"I Imagine" - Director Alessandro Circiello
"I Don't Care" - Director Josh Mitchell
"LA Seranade" - Director Phillip Montgomery
"Make Art" - Director Joseph Martinez
"ANGELES" - Director Bogdan Yansen
"One Day in LA" - Director Florencia Krochik
"Sounds We See" - Director Eugena Nuemann
"The Angeleno" - Director John M. Palacio
"Traffic is My Jam" - Director Will Lee
"Quieres De Mi" - Directors Vergi Rodriguez, Kash Gaines, and Yoram Savion
"Watts Watts" - Director Drew Bachrach
"Through Your Eyes" - Director Monique Carmona
More information and tickets to the 2014 On Location: The Los Angeles Video Project are available on the official website at http://newfilmmakersla.com/onlocation/.