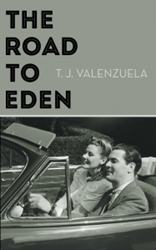 Antonio learns the hard way what can happen when someone is accused of political crimes against a harsh regime.
CRESTONE, Colo. –
(PRWEB) October 08, 2014 -- Antonio Morisán spends the last night of his ordinary life with his beautiful wife, Rosa, destined to escape the country early the next morning. The young businessman is on the verge of being arrested for questioning, and, as this new novel reveals, the unknown outcome could be disastrous. Following an impulse to visit a beautiful woman before his rendezvous with a pilot creates a cascading chain of events.
Set in the 1950s in the fictional repressive country of Tacafecas, "The Road to Eden" offers a fast-paced adventure that begins when Antonio deviates from his escape plan to visit Edén, a remote farm owned by Alison Pater Díaz, a young widow he met on the bus. Antonio is smitten by the blond-haired, blue-eyed beauty and her orange grove, and the two start a whirlwind affair when a natural disaster keeps him from leaving.
A sudden accident changes everything, and Antonio learns the hard way what can happen when someone is accused of political crimes against a harsh regime. His very life hangs in the balance, and he must depend on others if he hopes to see Rosa again. With vivid descriptions of a time when Bel Air convertibles ruled the roadways and Lucky Strikes were the cigarette of choice, T.J. Valenzuela's sexy novel offers unforgettable action and adventure.
This is the second book for author T.J. Valenzuela, who also wrote "The Moon Lit the Owl's Way." He was born in San Juan, Puerto Rico, and grew up there and in Guatemala. He earned a graduate degree in geography and worked as an educator. He and his wife, Rose, live in Crestone, Colo., with their three dogs.
----------
For additional information, please visit Amazon.com
The Road to Eden
T.J. Valenzuela
Dog Ear Publishing
ISBN: 978-1-4575-2953-5 248 pages $15.95 US
Available at Ingram, Amazon.com, Barnes & Noble and fine bookstores everywhere.
About Dog Ear Publishing, LLC
Dog Ear Publishing offers completely customized self-publishing services for independent authors. We provide cost-effective, fast, and highly profitable services to publish and distribute independently published books. Our book publishing and distribution services reach worldwide. Dog Ear authors retain all rights and complete creative control throughout the entire self-publishing process. Self-publishing services are available globally at dogearpublishing.net and from our offices in Indianapolis.
Dog Ear Publishing – self-publishing that actually makes sense.