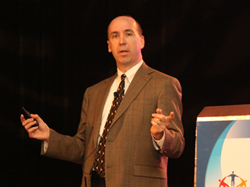 One of my goals is to help healthcare workers succeed tomorrow by unlearning today.
Dallas, TX (PRWEB) October 08, 2014
According to futurist and health care trend expert Jack Uldrich, "by the beginning of the next decade, in addition to the developments in genomics, genomic surgery, continued advances in information technology, biotechnology, nanotechnology, robotics, data mining, wearable technologies, artificial intelligence, sensors, social networking, a myriad of other technologies will transform the face of modern medicine."
Uldrich, who speaks and consults for clients worldwide, from startups to Fortune 1000 companies, will be presenting a keynote speech to the American Nurses Credentiallng Center's National Magnet Conference (ANCC),in Dallas, TX., on Wednesday, October 8th, where over 7,000 nursing executives from top hospitals are gathering to share evidence-based practices, and discuss the latest advances in nursing.
Uldrich aims to enhance the ACNN's experience and share his knowledge and insights into 'unlearning.' He says, "Health care is changing at a dizzying pace. Innovations we can scarcely imagine today will soon be commonplace. Before we can seize these new opportunities, we must first unlearn the old ways of doing business."
Having addressed the 2014 AMA National Advocacy Council, United Healthcare, the Iowa Healthcare Collaborative, St. Jude Medical, and the Healthcare Association of New York, among others, Uldrich is well versed in the trends of healthcare. But his scope is much larger, he also speaks on future trends in education, energy, finance, agriculture, retail and manufacturing. He has over eleven books published, including the best selling "Foresight 20/20" which will see it's second publication in the coming months.
While at ACNN Uldrich will explain how unlearning can help the audience members think "inside-out" the box and successfully navigate a future filled with certain change. Hailed by Bloomberg Businessweek as America's Chief Unlearning Officer, Uldrich will also share provocative new perspectives on competitive advantage, organizational change, and transformational leadership. One of his motto's as a futurist is "Succeed tomorrow by unlearning today!"
Parties interested in learning more about Jack Uldrich, his books, his daily blog or his speaking availability are encouraged to visit his website. Media wishing to know more about these events or interviewing Jack as a futurist or trend expert can contact Amy Tomczyk at (651) 343.0660.