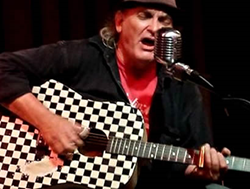 Seeing is believing... one of the most authentic, original players and writers in the land.Steve Seens, Marietta GA
Chapel Hill, NC (PRWEB) October 07, 2014
Eric Sommer, Pop Americana star and acoustic guitar superhero, is heading south for shows in Alabama, Tennessee, Texas, Louisiana.
October and November find this remarkable player and writer doing what he does best: working an audience in a live-show format and laying out beautifully crafted pop and folk tunes interspersed with blistering lap-slap and slide guitar side trips.
Birmingham and Pale Eddies are hosting Eric Sommer on October 10, then it's Memphis and Kudzu's, then back to Birmingham for a night at The NICK, the uber-hip rock center of the Birmingham scene. Shows in Huntsville and a few one-off shows in the Atlanta area bring Mr. Sommer back to Dallas and The House of Blues on October 24, then Wake The Dead in San Marcos, Texas on October 26 and The Speakeasy in Austin on October 29.
Shows are being added regularly:
BREVARD, NC
the phoenix • 10/9
BIRMINGHAM, AL
pale eddies • 10/10
MEMPHIS, TN
kudzu's • 10/11
BIRMINGHAM, AL
the nick • 10/12
HUNTSVILLE, AL
kaffeklatch • 10/17
DALLAS, TX
house of blues • 10/24
SAN MARCOS, TX
wake the dead • 10/26
AUSTIN, TX
the speakeasy • 10/29
Eric Sommer has more history and mojo than most players on the scene today - schooled by Steve Howe (YES), guided by David Bromberg, Joe Pass, Pat Martino and Stevie Ray, Eric is comfortable in all acoustic/electric formats. At the same time, his desire to be a master of his tools has made him a strong player of the Fender Telecaster, various harmonicas and the amazing lap-slap style he created.
Make an effort to see Eric Sommer on this tour. Players like this are rare indeed.
_________________________________________________________________
For music samples, please visit Eric Sommer online for additional schedules or contact him at eric(at)ericsommer(dot)com or call 202-255-1995. Additionally, you can find Eric Sommer on Facebook, too, at Eric Sommer Music. RAINY DAY KARMA is also available on CDBaby and iTunes.
Eric Sommer is represented by Clyde is Thinking, and PR programs are managed thru PeaPatch Island Entertainment, Philadelphia/Hilton Head. For more information, promo/appearance requests or to set up an interview, please contact Gary Curry @ 609-202-5021.