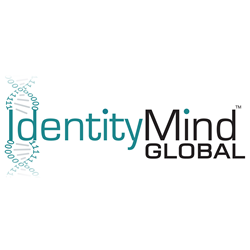 We're proud to be providing this industry with the affordable tools they need to operate legally in the U.S. and abroad. We made our commitment earlier this year, and will continue to support the industry as it grows.
Palo Alto, CA (PRWEB) October 06, 2014
IdentityMind™, provider of Anti-Fraud and Risk Management Services for e-commerce, announced today the acquisition of their 25th virtual currency client, demonstrating the value of the platform within the Virtual Currency industry. IdentityMind has Virtual Currency clients on four continents, and serves a variety of Bitcoin businesses including major exchanges, financial services, gift cards, payment services, wallet hosting, and Bitcoin ATMs.
The IdentityMind™ platform uses the company's proprietary eDNA™ (electronic DNA) technology to share payment and reputation data across the entire client network, with data from each additional client improving the platform's accuracy and ability to reduce risk for all clients.
"We're proud to be providing this industry with the affordable tools they need to operate legally in the U.S. and abroad. We made our commitment to the industry earlier this year and will continue to support it as it grows." said Garrett Gafke, President & CEO of IdentityMind™. "We're constantly innovating and improving our platform to facilitate worldwide compliance for companies of all sizes. Our latest release adds the ability to expedite SAR filing to FinCEN from inside our Platform, making financial crime analysts more productive and effective in their work."
IdentityMind™ provides Anti-Money Laundering services to some of the world's largest Bitcoin companies. IdentityMind has also released specialized programs exclusively for Bitcoin clients:
IGNITE: Accelerated Compliance for Bitcoin Start-Ups. IGNITE provides the Anti-Money Laundering (AML) support companies need, including Know Your Customer (KYC) and Transaction Monitoring services starting at only $150 per month for the first six months, and a single integration point to access 15 third-party providers of data and technology.
IGNITE – BTM: For Bitcoin ATM's. IGNITE-BTM provides a fast and affordable compliance solution for Bitcoin ATM operators worldwide. Three of the largest Bitcoin ATM manufacturers, representing 60% of the market, have already integrated with IdentityMind.
For more information about the IdentityMind Global platform and its solutions for Virtual Currencies and other high risk industries, please contact: evangelist(AT)identitymind.com.
About IdentityMind Global™:
IdentityMind Global™ offers an identity-based platform for safer e-commerce. Their on-demand platform provides payments, risk management, anti-fraud, and anti-money laundering services for online merchants, acquiring banks, payment processors, gateways, payment service providers (PSP/ISO/MSP, IPSP), digital currency exchanges, and financial institutions (banks, money service businesses (MSBs), money transmitters).
© 2014 IdentityMind Global. All rights reserved. IdentityMind, IdentityMind Platform, IdentityMind eDNA™, IDMPay and the IdentityMind logo are trademarks or registered trademarks of IdentityMind Global, Inc. in the United States and other countries. All other brand, service or product names are trademarks or registered trademarks of their respective companies or owners.
For more information please refer to our website at
http://www.identitymindglobal.com.