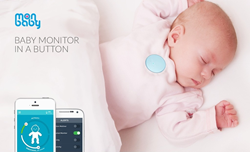 Sleeping on the stomach is not recommended by the American Pediatric Society because of an increased risk for SIDS (sudden infant death syndrome). MonBaby helps parents to respond quickly, keeping baby safe from dangerous conditions.
NEW YORK, NY (PRWEB) October 08, 2014
Baby monitor in a button entered a crowdfunding campaign.
A team of New York City entrepreneurs has unveiled the latest breakthrough in wearable technology–a small but very smart button that allows parents to monitor their baby's vital stats from their phone. MonBaby is a wireless device that snaps onto any article of a child's clothing, anywhere on the clothing. It tracks an infant's breathing, movements and sleep patterns, identifies irregularities and instantly alerts parents to troublesome signs.
"When my first son was born, I suffered from increased anxiety," says MonBaby founder and CTO Arturas Vaitaitis. "I couldn't sleep. I would wake up at all hours of the night to check on him, and would end up waking him up in the process. I had to come up with a solution."
The solution for parents' anxiety came in the form of a small, battery-powered device unlike anything else on the market. MonBaby is outfitted with sensors precise enough to detect the faintest movement of a baby's breath that can pick up irregularities instantaneously. The app sends an audible alert signal directly to mom or dad's phone and allows parents to fine-tune alerts based on specific conditions–for example, being notified if a baby rolls onto his or her stomach.
"Wearables are the next mainstream tech movement, and it makes perfect sense to take advantage of that technology to help new moms and dads," says MonBaby CEO Lev Grzhonko. "We've combined cutting-edge hardware with data-crunching algorithms to create a device that will revolutionize the way parents monitor their children."
MonBaby has been in development for two years and is currently in the manufacturing stage. It's already garnering praise and recognition, winning the Wearable Technology prize in the Smart Clothing category at the 2014 Innovation World Cup in Munich, Germany. MonBaby will have implications not just for infants, but for all ages; it can alert parents when an older child leaves a specified area and detect if he or she has a dangerous accident, like a fall.
MonBaby is the fledgling product from MonDevices, a technology company dedicated to improving quality of life through wearable devices.
On October 6th, MonDevices launched a Kickstarter campaign to speed along the manufacturing process. It can be accessed here: https://www.kickstarter.com/projects/monbaby/monbaby-baby-monitor-in-a-smart-button
An initial goal of $15,000 will allow the company to ship the first round of devices by December. A stretch goal of $100,000 will fund backend technology that tracks an infant's long-term sleeping patterns.
Mondevice launched the crowdfunding campaign after demoing MonBaby at the wildly popular New York Tech Meetup in Manhattan. Made up of more than 40,000 members, the New York Tech Meetup is a platform for a handful of select start-ups, inventors and entrepreneurs to show off their latest and greatest tech products to a crowd of hundreds before the product hits the market. The video can be accessed here (MonBaby's demo starts at the 40-minute mark).
"The demo went incredibly well and only made us more excited for the next step in our quest to bring MonBaby to families everywhere," says Vaitaitis. "Our prototype testing has been very successful, and we can't wait to put this product in the hands of more parents. Crowdfunding will allow us to do this sooner, and add an additional layer of technology to keep babies safe."
THE TECH SPECS
MonBaby sends raw data measured by MEMS 14bit accelerometer to a smartphone over Bluetooth 4.0 supported by TI SoC 2541. Measurements are done in real-time, five times per second, and transmitted to a smartphone app (iPhone or Android), which displays information in a convenient, easy-to-understand manner. The sensor is powered by 3V coin-cell battery, providing five weeks of constant use and up to one year of use when set to passive mode. The antenna range is 200 feet, which covers most homes.
ABOUT MONDEVICES
Based in New York City, MonDevices is a team of technologists, engineers and data analysts that are passionate about improving quality of life of those in need of care through wearable technology. The team members have more than 20 years of combined experience in diversified software and hardware development, quantitative analysis and problem solving. For more information, visit http://www.monbaby.com and http://www.mondevices.com.