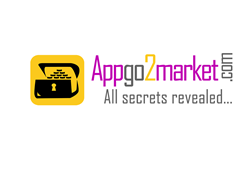 Los Angeles, California (PRWEB) October 08, 2014
Appgo2market Inc. launches http://www.appgo2market.com, a new mobile-app-business hub providing "how-to" training, methodologies, tools and templates, all with the goal of providing the necessary knowledge for Do-It-Yourself (DIY) mobile app marketing and monetization, bringing some order into this young and developing industry.
Many mobile app professionals are struggling to learn the ropes of the evolving mobile app industry and the way it behaves in terms of discoverability, monetization and engagement. They quickly realize there is a lot of chaos out there -- many service providers and no single proven recipe for success.
The app industry is still at an early stage, and is hence highly fragmented. New tools, solutions and technologies are popping up daily, making it nearly impossible to stay in the know and decide on the right path for achieving one's business goals. Appgo2market is the place for app developers, publishers, marketers and professional teams who need to make such decisions and manage their day-to-day business activities. Since the mobile app industry is characterized by a significant long-tail of developers, who are extremely tight on budget, Appgo2market makes sure it provides equal value to developers of all sizes, with different budget levels, all for a low monthly fee.
Appgo2market.com is a freemium website, offering a variety of free materials. In addition, paying members get access to the full knowledge center, library and templates catalog through subscription plans that can be canceled at any time.
"We have decided to start Appgo2market after dealing with these very same challenges, as mentioned above, when we worked for global publishers. We wanted to be successful app marketers and we kept looking for ways to scale our achievements. We were constantly searching for a professional authority that we can trust, that's dedicated to mobile apps, and can provide us with valuable guidelines, templates to download, and direct access to experienced experts who can offer both advice and impartial reviews of the different tools that are available for app developers. We were struggling to find something like this!
"Therefore, this is exactly the value we deliver in Appgo2market: Valuable, hands-on training around mobile app marketing and business aspects (such as user acquisition, PR, ASO, leveraging social channels, in-app marketing features, user engagement, monetization techniques, analytics and much more), impartial 3rd party service provider reviews, tools and templates. We provide these in easy to digest formats. Our unique proposition is that we keep our products highly relevant and up-to-date, as sometimes the dynamics of this industry makes yesterday's content irrelevant. We are also unique because we don't stop at the "how-to" training, but also provide downloadable templates as part of the deal (those include visual creative templates such install ad banners, designed screenshots, report spreadsheets, communication materials and more)", Said Tsipi Joseph, Appgo2market Co-Founder.
Monthly paying subscribers of Appgo2market enjoy:
1. Access to the "consulting zone" where they can ask specific questions and get answers from experts in the field.
2. A huge library of "how-to" premium training materials (written and video content) with fresh, new materials added regularly. From strategic thinking around your mobile app to A-to-Z hands-on practical training on different subjects.
3. Downloadable templates (such as designed screenshots, analytics worksheets, PR templates, UX templates and more).
4. Webinars providing live, real-time answers to questions from our community, where everyone can contribute to the discussion.
5. Monthly bonuses – special treats (can also be purchased on demand by nonmembers), each month with a different focus, but always with the goal of saving our subscribers tons of time and money. A few examples for recent bonuses are: User acquisition report template, pre-designed screenshots for an app's download page on Google Play and iTunes and Facebook install ads templates.
Subscribers can choose one of three packages, and subscription can be cancelled at any time:
1. $29.99 a month for the silver package
2. $39.99 a month for the gold package
3. Platinum package – priced on-demand
The website also offers a 30 days money back guarantee. Click here to learn more about the differences between the different packages.
Mobile app developers are also invited to download our e-book: The Complete launch plan for your mobile app" and sign up to get regular updates on new materials, via email.
Click here to download
Appgo2market is also engaging in a variety of projects, working with individual apps on their specific challenges, helping them with their marketing activities, boosting their existing marketing teams or acting as their own, internal marketing team. Learn more
You can find Appgo2market's press kit where you can find additional information and videos here.
You can follow us on:
Facebook
Twitter
Google Plus