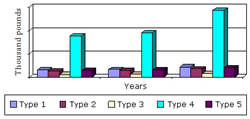 Global Market for Specialty Fibers to Reach 841.7 Million Pounds in 2019
Wellesley, MA (PRWEB) October 06, 2014
BCC Research (http://www.bccresearch.com) reveals in its new report, Specialty Fibers: Technologies and Global Markets, the global market for specialty fibers is expected to grow to 841.7 million pounds, registering a compound annual growth rate (CAGR) of 7.8% from 2014 to 2019. China's share alone will account for 34% of incremental growth.
Markets are primarily in the developed nations of North America, Western Europe and Japan. Combined, these nations account for 72% of the global total, down from 76% in 2007. Although the rest of the world represents a 28% share, it is these emerging markets that will present the most dynamic opportunities during the next five years.
Currently, the highest growth economies are in East Asia—China in particular. Automobile companies are rushing to build plants in these countries, although there is clearly an overabundance of manufacturing capacity worldwide. A major source of growth will be aircraft/aerospace, where the Airbus A380 and A350 and the Boeing 787 Dreamliner offer significant opportunities for composites and carbon fibers. Wind energy, fuel cells and other new industrial applications will also provide opportunities.
"New product development, marketing and technical servicing are keys to success in this industry," says BCC Research advanced materials analyst Calvin Swift. "Most specialty fiber companies have adopted either a strategy of product differentiation along either fiber material (e.g., boron) lines or on a strategy of focus (market segmentation) that is usually based on product type (e.g., aircraft brakes)."
Specialty Fibers: Technologies and Global Markets analyzes the current North American market in detail and identifies the most promising market opportunities for the next five years. The markets in Western Europe, Japan, China and other global markets are covered as well.
Editors and reporters who wish to speak with the analyst should contact Steven Cumming at steven.cumming(at)bccresearch(dot)com.
About BCC Research
BCC Research publishes market research reports that make organizations worldwide more profitable with intelligence that drives smart business decisions. These reports cover today's major industrial and technology sectors, including emerging markets. For more than 40 years we've helped customers identify new market opportunities with accurate and reliable data and insight, including market sizing, forecasting, industry overviews, and identification of significant trends and key competitors. We partner with analysts who are experts in specific areas of industry and technology, providing unbiased measurements and assessments of global markets. Our clients include the top companies in industries around the world as well as universities, business schools, start-ups, consulting firms and investment companies. BCC Research is a unit of Eli Research LLC. Visit our website at http://www.bccresearch.com. Contact us: (+1) 781-489-7301 (U.S. Eastern time), or email information(at)bccresearch(dot)com.
Data and analysis extracted from this press release must be accompanied by a statement identifying BCC Research LLC, 49-2 Walnut Park, Wellesley, MA 02481, Telephone: (+1) 781-489-7301; Email: editor(at)bccresearch(dot)com as the source and publisher. Thank you.