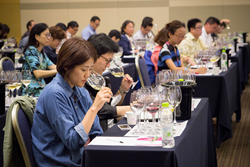 It is now more important than ever to leverage the potential ambassadors for Italian Wines to get across the correct information in the most rigorous way possible
(PRWEB) October 06, 2014
"A Panorama of Italy's many great and diverse wines" concluded on the 2nd of October with a round of applause from over top 50 Korean importers, journalists and wine educators who attended the very first edition of the Vinitaly International Academy in South Korea during the Asia Wine Buyers Conference in Daejeon (1 – 3 October 2014).
"I thought it went really well and the participants were happy and followed Ian's tasting until the very end with great attention" explains freelance wine journalist Mrs Claire Kyunghwa Nam who presented the Executive Wine Seminar in collaboration with top international wine expert, Doctor Ian D'Agata. "After the seminar, they came to me to tell me that they really enjoyed it. In terms of wine, the people mostly liked familiar labels such as the Chianti Classico Castello D'Albola Riserva, the Amarone of Zenato Winery and Castello Banfi's Brunello di Montalcino, but also showed a great interest in getting to know less popular wines such as the Freisa Kyè of G.D. Vajra, the Bastianich Plus Tocai Friuliano or the Bracchetto D'Aqui of Balbi Soprano. They like to learn and taste. South Korea is definitely the place to meet new potential wine consumers."
Although Chile ranks number one for total imported wines by volume, indisputably dominating the market, more wine educated consumers are now looking to Italy and France for something special for a special occasion emphasizing the strong social value that is often associated today with wine consumption: a business dinner, a date, or a family gathering. If you have an important occasion, wine will be part of it. "Education and entertainment are key factors for increasing brand awareness and attracting non-wine drinkers", explains Dr HyunJun Cho, Gallo Winery Asia Pacific Regional Manager, who presented an interesting overview of the Korean wine market on the first day of the Conference. "When we talk to sommeliers and trade we can go deeper and deeper, but when talking to consumers, we never use education, we always tell funny stories or any interesting story related to wine. We tell them it is a good beverage for entertaining and for special occasions".
A recent study carried out as a part of the 2014 Korea Wine Market Report also indicates a strong correlation between wine education and involvement, with the latter generating an increase in wine consumption, as explained by Andrew Ji Hyung Kim, Wine Brand Manager at Kook Soon Dang: "Greater education leads to a greater involvement for certain products and more willingness to pay. So I really believe that educational initiatives such as Vinitaly International Academy are very important for our future consumers and will really lead customers to buy larger quantities and more expensive wines. I liked the seminar a lot and especially Doctor Ian D'Agata's speech: he really knows how to educate people." Mr Kim is also a candidate for the new certification course that Vinitaly International Academy will be launching for the first time from the 16th to the 20th of March 2015 in Verona: the project aims at creating 50 Ambassadors of Italian Wine who can support Doctor D'Agata in teaching VIA courses and Seminars around the world.
Master of Wine, Annette Scarfe, also present at the Conference, shared the same belief that education can play a key role in penetrating new markets and helping consumers better understand the great complexity of Italian wines: "People are interested in different grape varieties, what their characteristics are, the territory…everything about grape growing and winemaking. I think that Vinitaly International Academy is going to be fantastic in helping explain the myriad different types of Italian wines. Let's face it, many professionals don't really completely understand about all Italian varieties, there are so many to know about and some fantastic wines out there. So it is a great opportunity for people to learn more and get to experience different styles".
The Korean wine market is considered today to be one of the most dynamic markets in the Asia Pacific Region and is expected to grow even more in the next 5 years thanks to quality-orientated young consumers seeking value for money wines. This rising new category aged 21 – 34 that is becoming the dominant purchaser of wine, spends 5+ hours per day on social media networks in a country with an Internet penetration of over 82% and where 79% of the population uses a Smartphone. Although the online sale of alcoholic beverages is still prohibited in Korea, its advanced technology culture has undoubtedly favored the increase in wine purchase and consumption, given the large investment that is being made in SNS marketing tools. The new Millennials have, in fact, a strong tendency to obtain coupons via digital mediums and like to buy more expensive wines. "Korea is considered the most wired country in the world by many", says Stevie Kim, Manging Director of Vinitaly International, "and nearly 98% of the age group 18 to 24 are smartphone users (Source: CNN, 27 November 2013, http://edition.cnn.com/2013/11/27/travel/10-things-south-korea-does-best/). Albeit the importers and outlets are the key influencers in the wine market now, I've learned that in a short time the shift of power will lean more towards the consumers for this very reason. It is now more important than ever to leverage the potential ambassadors for Italian Wines to get across the correct information in the most rigorous way possible vis a vis Vinitaly International Academy.
Online sales of wines will also become inevitable as pressures grow from the marketplace, despite resistance from the importers. I frankly think that the importers themselves will embrace the e-commerce platform and leverage their expertise to penetrate the market as another viable approach to arriving at the end user. When you have that many smartphone users in one place, the consumers will dictate many more rules than the current situation".
About:
Veronafiere is the leading organizer of trade shows in Italy including Vinitaly (http://www.vinitaly.com), the largest wine event in the world. The 48th edition of Vinitaly counted some 155,000 visitors (+6%) in four days of event, of which 56.000 were international attendees representing 36% of the total. On 100.000 square meters, 4.000 exhibitors welcomed trade professionals, media and producers alike. The next instalment of the fair will take place on 22 – 25 March 2015. The premier event to Vinitaly, OperaWine (http://www.vinitalyinternational.com) "Finest Italian Wines: 100 Great Producers," will unite international wine professionals on March 21st 2015 in the heart of Verona, offering them the unique opportunity to discover and taste the 100 best Italian wines, as selected by Wine Spectator. In 1998 Veronafiere also created Vinitaly International to develop a global platform for the promotion of Italian wine producers in foreign markets such as Russia, China, USA and Hong Kong.