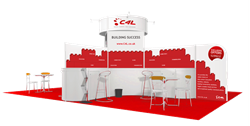 This year has been huge in terms of strategic maturity for C4L, I cannot wait to share our show-only offers at an event flooded with delegates looking for the help we can provide
London (PRWEB UK) 6 October 2014
Already this year, C4L have donated £1m to start-up businesses, set up huge future proof deals with some of the most prestigious data centers in London and invested in industry-changing deployments with the likes of Juniper, Virgin and CommVault.
This year, the rapidly expanding IT infrastructure providers are exhibiting at IP Expo with a twist, not only are they offering half price for three months but they are agreeing to Free Setup which is almost unheard of on a minimum commit of 1 year. Their technical sales team as well as CEO Simon Mewett are on hand to launch the 'Building Success' campaign which offers a packaged solution to start outsourcing IT, they also claim a visit to their stand will explain how to simply choose your rack size, location, and power requirements and they will do the rest.
Simon Mewett, CEO of C4L, said: "This year has been huge in terms of strategic maturity for C4L, with our MPLS network coreTX on the brink of launch, our campaigns aligned to channel and clients always at the forefront of our developments, I cannot wait to share our show-only offers at an event flooded with delegates looking for the help we can provide"
About C4L
C4L is a Colocation, Connectivity, Cloud and Communications provider headquartered on the South Coast of the UK. They own and operate a high specification data-centre in Bournemouth, as well as providing colocation services in over 100 UK data centres and more than 300 globally. C4L's coreTX network is one of the UK's largest Data Centre networks, the multi Tbps, high performance MPLS network links data centres across the UK, using a diverse fibre optic backbone and DWDM technology. It's VMWare and IAAS cloud platforms further leverage coreTX and the wide Data Centre footprint to offer industry leading Cloud performance, an approach replicated in delivering VoIP services to its wholesale Communications partners.
C4L clients include government agencies, FTSE 250 companies, international financial institutions, system integrators, top 100 VARs, resellers and many of the UK's network carriers. C4L's entire business is committed to customer satisfaction and quality of service and has achieved certifications such as ISO9001 and 27001 to demonstrate this.
For more information visit http://www.C4L.co.uk/pr, or Tel: Jade Yarham +44 (0)8000 470 481 Ext 736