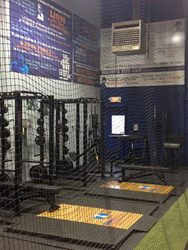 "I am excited to offer a new standard in athletic performance training and mental preparation" says Sean Kelly founder and owner of Sean Kelly's Performance Center.
Wyckoff, NJ (PRWEB) October 20, 2014
"I am excited to offer a new standard in athletic performance training and mental preparation," says Sean Kelly, founder and owner of Sean Kelly's Performance Center. "It has been a life-long passion of mine to provide extensive fitness training for athletes on an individual level and group instruction with a unique concentration on breaking mental barriers to elevate an athlete's game."
The brand new Wyckoff, NJ facility, a unique warehouse conversion, offers athletes an ultimate training environment. The premises is fully equipped with a 2,000 square foot turf field, a dedicated strength and fitness area fully equipped with custom made Elite FTS equipment from wall to wall, including power racks, specialty bars, glute-ham bench, reverse hyper, Cable Cross-over, and Olympic lifting platforms. To compliment that equipment, some of the more unconventional training tools that are used are Prowlers, bands, blast straps, sand bags and medicine balls. There is also a Lacrosse skill training area made up of 3000 square feet of wall ball space for wall ball training and other exercises.
Sean Kelly's Performance Center is centered on four programs. The Future Stars Program caters to young athletes between the ages of 10 and 12. The program is designed to properly build and develop the young athlete while instilling the confidence needed to thrive on and off the athletic field. Their Elite High School Prep program prepares athletes between the ages of 13 and 15 for high school athletics. The program focuses on proper running techniques, warm up techniques for injury prevention, strength training, proper nutrition guidelines and their signature mental toughness training, building confidence both on and off the field.
The Elite Athlete High School program prepares high school athletes for their specific sport season to help them get bigger, stronger and faster focusing on strength training, speed and acceleration training and their exclusive mental toughness training. This intense training is facilitated in small groups of 6 athletes to one coach or can be customized to entire teams.
Lacrosse Skills Development Training is also provided using cutting edge training techniques to athletes, boys and girls, of all ages in a fast paced setting. Each athlete receives a video analysis and an individualized program catering to their specific needs. Team lessons are also offered.
All of the programs at SKPC offer an exclusive assessment process which gives every athlete a customized program for their goals, needs and abilities. This customization will make sure the athletes' current strengths are maintained and their weaknesses are corrected.
As a two sport Division I athlete, Sean graduated Cum Laude from Fairfield University in 2000. After college, Sean spent twelve successful years on Wall Street. He is a Certified Physical Preparation Specialist (CPPS) with over 20 years of training experience. Sean sets himself apart by concentrating on the mental aspect of competition. Although Sean has a remarkable ability to improve strength, speed, flexibility, and endurance with his proven training techniques, he understands that mental barriers are often greater than physical ones and he helps athletes of all ages, boys and girls, to develop skills to conquer these barriers.