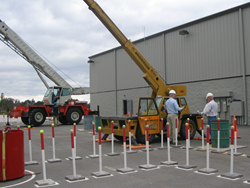 Many proactive accompanies are still requiring their crane operators to take and pass their NCCCO certification exams
Orlando, FL and Houston, TX (PRWEB) October 07, 2014
OSHA has extended the implementation date of its crane operator certification requirements by three years to 2017. This will allow it time to address issues such as "certifying by capacity" and whether certification really means the same as qualification—issues that the industry has been complaining about since the rule was published almost four years ago. Crane Inspection & Certification Bureau (CICB) Operations Manager, Karla Lascell, states "Certification, when done correctly, has been shown to reduce accidents, save lives, and reduce injuries." Lascell continues "Certification provides employers with a sound basis on which to base their assessment of crane operator competency."
It is up to the employer to ensure that their crane operators are trained and competent to operate cranes and many proactive companies are still requiring their crane operators to take and pass their NCCCO certification exams.
The three-year delay is "regrettable but necessary," says Joel Oliva, Direction of Operations and Program Development for the National Commission for the Certification of Crane Operators. The delay is "a needed step to ensure that whenever requirements made by OSHA are right." NCCCO tests will continue unchanged for now and all NCCCO certifications issued remain in full force and effect. "Independent of a regulatory mandate, certification still provides added safety benefits to operators, employers, and the public and we encourage everyone to continue the process of certification," Oliva says.
Of the more than 65 comments that OSHA has received about the proposal, many support the delay and recommend that future testing rules not include capacity. Some contend the revised rules should stipulate that employers have the final say on who is qualified to operate a crane.
Out of a total pool of 117,130 operators, OSHA estimates that 71,700 are certified only to type, while some 15,000 operators today are certified to type and capacity. Further the agency estimates that an additional 30,430 operators remain without certification in the United States.
About CICB
The goal of CICB's inspections and training programs are to reduce accidents and injuries, increase worker skills, productivity and morale, and achieve regulatory, best practice and corporate compliance, and lower maintenance costs, increase reliability and life of the equipment. CICB, headquartered in Orlando FL since 1969 with a second training facility in Houston TX, offers scheduled training programs at our facilities and at various locations across the U.S. or customized on-site training at your facility. CICB also provides training and inspections internationally.
CICB's professionally trained instructors and subject matter experts are not only NCCCO Certified as Mobile, Overhead & Articulating Cranes Operators, but are also CCO Certified Riggers, Signalpersons, and Crane Inspectors. All of CICB's trainers are NCCCO accredited Practical Examiners. CICB's instructors have been awarded the prestigious Top Trainer Award in 2014, 2013, 2012, 2011 and 2009.