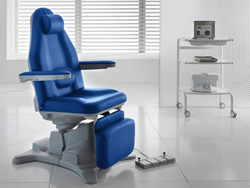 Louisville, KY (PRWEB) October 07, 2014
DRE Medical — a leading medical equipment distributor — is pleased to return to Plastic Surgery The Meeting, the annual conference for the American Society of Plastic Surgeons, to be held Oct. 10-14, 2014 in Chicago.
DRE equipment consultants Kary VanArsdale and Misty Hampton will be in booth #434, where they will be helping today's plastic surgeons find the best surgical and exam equipment options.
Attendees will be able to browse customer favorites like the DRE Milano E20, a deluxe, cost-effective exam chair designed to handle both diagnostic exams and lengthy, office-based procedures. The chair offers innovative engineering, first-rate materials, attractive styling and advanced features ideal for plastic surgeons.
The Milano E20 includes key standard features that are, for other chairs, expensive add-ons, such as:

180-degree chair rotation
Electronic foot and hand controls
Movable armrests that can be folded up and out of the way
Electric Trendelenburg positioning
"We feel strongly that this is one of the best procedure chairs on the market today," said Justin Jeffries, DRE Vice President of Marketing. "If you compare the high-quality materials and engineering, the advanced standard features, and the price point, it easily beats the competition."
Using the standard hand and foot controls, the Milano E20 can be easily adjusted into a variety of positions. The automatic reset button returns the chair to its original position.
The DRE Milano E20 is available with optional accessories and additional customization options, including increasing the width of the seat from 23 to 27 inches for added patient comfort and accessibility.
Connect with Kary and Misty on LinkedIn, and meet them in Chicago in booth #434. Customers who shop with DRE could be eligible to receive a GE Datex Ohmeda TuffSat Pulse Oximeter — free with qualifying equipment purchases. Ask Kary and Misty for details.
For information on more upcoming meetings and trade shows, visit our Medical Trade Shows and Conventions Calendar Schedule — a continually-updating, free resource.
About DRE
Since 1984, DRE has worked to be a single supplier for all major operating room equipment and surgical equipment. Inc. magazine named DRE, Inc., a leading surgical and medical equipment supplier, to its annual Inc. 5000 list of the nation's fastest growing companies for three consecutive years.