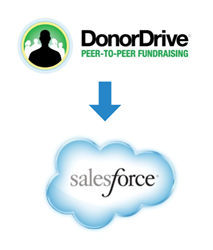 The connection of DonorDrive and Salesforce creates the complete package that nonprofits have been waiting for.
Cincinnati, Ohio (PRWEB) October 10, 2014
DonorDrive® Peer-To-Peer Fundraising software announces integration with the new Salesforce® NGO Connect to seamlessly move extensive fundraising data from their software to the Salesforce CRM platform. For nonprofits that do event fundraising on a national scale, DonorDrive now gives them a solution dedicated to event fundraising that connects with Salesforce, the most popular CRM. Previously data connections between Salesforce and fundraising software were limited to passing a few data fields and limited to fundraising platforms that don't natively handle major signature events for national organizations. Salesforce NGO Connect will be officially launched at Dreamforce '14 next week in San Francisco.
On announcing NGO Connect, COO of Salesforce.com Foundation Rob Acker, noted that this tool will be a game changer for nonprofits. "The Salesforce.com Foundation continues to be laser-focused on the needs of the nonprofit sector and putting the best technology in their hands to help them improve the world. NGO Connect will help nonprofits accelerate their success and transform the social change sector."
Paul Ghiz, co-founder and Chief Strategy Officer of Global Cloud, the makers of DonorDrive, sees the connection of DonorDrive to Salesforce as a major opportunity for medium and large nonprofits to dramatically increase efficiencies and their online fundraising. "Organizations that host major event series or chapter events can automatically sync data from DonorDrive's enterprise fundraising platform into their Salesforce CRM. Nonprofits that have been seeking the combination of powerful event fundraising and relationship management now have the solution in DonorDrive and Salesforce."
In recent years, large nonprofits have seen the need to expand their online fundraising from simple donate buttons to robust initiatives, like signature events, Third Party Programs, virtual campaigns and DIY fundraising, all of which DonorDrive does handily on a large scale. Todd Levy, co-founder and CEO of Global Cloud, sees that the joining of the two systems will grow fundraising for current and future DonorDrive clients, helping them expand on their missions. "Enabling the Salesforce CRM to build on relationships that DonorDrive cultivates will give nonprofits a distinct advantage in fundraising, engaging donors and making relationships easy. The connection of DonorDrive and Salesforce creates the complete package that nonprofits have been waiting for."
DonorDrive is a proud sponsor of the Salesforce.com Foundation and will be at Dreamforce '14 for the official launch of NGO Connect. Nonprofits that would like to discuss the future of their fundraising with the DonorDrive Team at Dreamforce '14 should contact Summer Crenshaw at DonorDrive.
About Salesforce NGO Connect: This new app from Salesforce helps nonprofits connect their fundraising, event management, relationship management and program management. The mission of the Salesforce.com Foundation is to put best-of-class technology at the service of nonprofits so they can focus their time and resources on achieving their mission. Find out more at SalesforceFoundation.org.
About DonorDrive: Large and mid-size nonprofits increase their revenue with DonorDrive® Peer-To-Peer Fundraising software. With innovations like mobile-responsive fundraising pages and our industry-first Fundraising Motivation Engine®, DonorDrive makes giving from any device easy and turns your event participants into better fundraisers. Find out why Children's Miracle Network Hospitals, World Vision, Special Olympics, Doctors Without Borders and more of North America's most successful organizations depend on DonorDrive at DonorDrive.com.