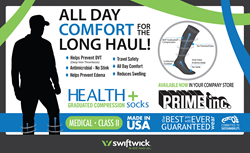 "Prime has further demonstrated their commitment to driver wellness by promoting to their drivers the benefits of wearing the HEALTH+ sock." -Grant Castle, Swiftwick Director of Distribution Channel Partnerships
Brentwood, TN (PRWEB) October 07, 2014
Swiftwick, a leading U.S. producer of athletic and medical compression socks, today announced its partnership with PRIME Inc., a prominent North American trucking company with more than 8,000 drivers. The Springfield, Missouri based transportation fleet will carry the HEALTH+ Medical Class II graduated compression sock line in all Prime Inc. company stores.
"When Prime Inc. founder Robert Lowe became Chairman of the Truckload Carrier Association in 2012, he immediately elevated the dialog and brought industry focus to the idea that every fleet operator needs to pay attention to driver health," said Grant Castle, Swiftwick director of distribution channel partnerships. "As a current CDL holder, I know firsthand the importance and difficulty of maintaining a healthy lifestyle when you're working hard on the road. Prime Inc. has further demonstrated its commitment to driver wellness by promoting the benefits of wearing the HEALTH+ sock to its drivers."
The HEALTH+ sock line is a qualified Class II Medical product, helping prevent pooling of blood in the legs using controlled pressure to address the risk of Deep Vein Thrombosis (DVT) while promoting comfort, moisture management and antimicrobial benefits from a performance product.
The current Federal Motor Carrier Safety Administration (FMCSA) Hours of Service Rules limit the on duty status for a driver to 14 hours, while a driver's maximum driving activity is limited to 11 hours. For any long distance traveler, remaining in a constant seated position for more than two hours can increase the risks for DVT. Swiftwick's HEALTH+ medical compression sock is a solution to help prevent DVT and additional medical conditions.
"Prime Inc. strives to be the leader in providing superior transportation across North America while supporting the optimal health of our drivers," said Siphiwe Baleka, Prime Inc.'s driver health and fitness coach. "Having the Swiftwick HEALTH+ sock available at our company stores and on the road at our partner truck stop locations helps us all to advance our commitment to our drivers and their families."
To learn more about the HEALTH+ sock or Swiftwick visit swiftwick.com.
-###-
About Swiftwick
Founded in January 2008, Swiftwick is headquartered in Brentwood, Tenn. The company is a medical and performance sock manufacturer that proudly employs an American workforce in high-quality textile manufacturing. Swiftwick is an innovator in designing and producing superior socks. The company has a culture focused on manufacturing through environmentally friendly means, social responsibility and leading customer service. Learn more at http://www.swiftwick.com.
Medical Class II Indications
For mild varicose veins, post-surgery, poor blood circulation, leg discomfort, mild to moderate swelling, tired and aching legs. Helps prevent Edema. Helps prevent Deep Vein Thrombosis for long distance travelers.
Media Contacts:
Dittoe PR for Swiftwick – 317.202.2280 x.25 or media@swiftwick.com
For Fleet Inquiries Contact:
Grant Castle - 800.895.5858 x 118 or Grant@Swiftwick.com