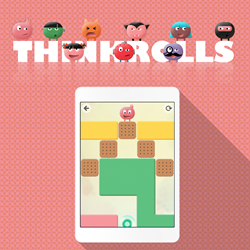 Little players encounter and use to their advantage force, acceleration, buoyancy, heat, elasticity and gravity to get their Thinkrolls where they need to go.
Orlando, FL (PRWEB) October 20, 2014
Early learning pioneer Maria Montessori once said, "Education is a natural process carried out by the child and is not acquired by listening to words but by experiences in the environment." That's the philosophy Avokiddo employed in creating Thinkrolls. It presumes kids are smart and challenges them with gameplay that requires out of the box thinking to navigate the rolling ball Thinkroll characters through a series of obstacles in brightly patterned mazes.
Thinkrolls is featured on the App Store's home page and kids category in the US and all over the world. It has received rave reviews and accolades for its visual excellence and original game-play that fosters creativity and out-of-the-box thinking.
Thinkrolls has all the trappings of popular platformer and physics puzzlers, but it incorporates a significant amount of educational content. Every aspect of the app is designed to enhance kids' logic and problem solving as well as improve spatial cognition, memory, and executive function. Each chapter introduces a new object with unique physical properties which kids discover through hands- on manipulation. Little players encounter and use to their advantage force, acceleration, buoyancy, heat, elasticity and gravity to get their Thinkrolls where they need to go.
Young children's minds are like sponges. They have an amazing capacity to synthesize new information. Kids take risks, innovate and look at everything with a fresh eye. Thinkrolls capitalizes on these skills. Each chapter builds upon what they have learned previously and requires significant planning as well as an ability to predict outcomes. The mental flexibility needed to solve the puzzles within the game is the same sort of logic students will employ 10 years later to solve multi-variable algebraic equations.
Features:

180 challenging levels with mind-sharpening puzzles
Easy mode for ages 3-5, hard mode for ages 5-8
Experiment with gravity, heat, buoyancy, speed, friction, elasticity and more
Enhance logic, spatial cognition, problem solving, memory, observation and more
Self-directed, hands-on learning environment
Surprising bits of humor and character interaction that invite repeat play
Track progress for up to 6 player profiles
18 hilarious super smart characters to play with
Supreme design and beautiful artwork
Original soundtrack and sound design
Language neutral game-play
COPPA compliant, no ads, no in-app purchases
Video trailer and more info can be found here: http://www.avokiddo.com
Pricing and Availability:
Thinkrolls is priced at $2.99 and is available worldwide for iOS and Android.
iTunes: https://itunes.apple.com/us/app/thinkrolls/id917176209
Amazon: http://www.amazon.com/gp/mas/dl/android?p=com.avokiddo.games.thinkrolls
Google Play: https://play.google.com/store/apps/details?id=com.avokiddo.games.thinkrolls
Device Requirements:
iPhone, iPad, iPod touch - Requires iOS 6.0 - 39 MB
Android/Kindle Fire - Requires Android 2.3.3 - 44 MB
About Avokiddo:
Avokiddo is a creative studio specializing in the development of quality educational apps for children. Avokiddo's award-winning apps have received excellent reviews and feedback from respected reviewers, parents, kids and educators. Avokiddo Emotions, is featured in Apple's website as #1 favorite app for the iPad Air and iPad Mini. As a MOMs with Apps member, Avokiddo follows the "Know What's Inside" best practices for kids' apps.