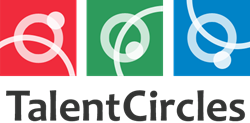 Smaller firms can now recruit big, just like a Fortune 500 with TalentCircles.
San Bruno, CA (PRWEB) October 06, 2014
TalentCircles© Inc., a Silicon Valley based HR technology company announced the launch of their long-awaited Small Business Talent Community that will offer all of the features and recruiting functions that are essential to transform recruiting and make it human again. TalentCircles will be equipping the smaller recruiting departments with the ability to source and manage talent as if they were large. The TalentCircles SMB offering will be available on October 20, 2014.
"Analysts like to remind us that the costs per hire for small and midsized companies is almost double of what companies with 10,000 employees spend on average," says Susan Magrino, SVP of Sales at TalentCircles. "It's unfair that the departments that have to shoulder so much of the work to source and manage great talent are also being penalized for not being able to acquire the right technology. It became a passion for everyone at TalentCircles to design a comprehensive platform that bridges this technology gap. Smaller firms can now recruit big, just like a Fortune 500." Magrino adds.
Smaller organizations cannot spend fortunes blasting their job openings all over the Web. Chances are that they will be unnoticed anyway. They usually do not have a large HR department, if any at all. So they must approach hiring differently and play to their strengths: "Small businesses have been efficient at driving customers to their web site and engaging on the various social channels. This is key. If they now invite people to join their talent community and give them the sense of friendliness and humanity that are usually the hallmark of smaller businesses, they can build powerful talent pools to draw from when they have job openings," Marylene Delbourg-Delphis, CEO of TalentCircles, states. "They may never even have to post jobs then wait and pray."
Life and work in a small business can be demanding, but what often saves the day, is that it's relationship-based. An efficient hiring strategy for smaller organizations must be relational too. "The most efficient way to hire in a small business is to create a sense of neighborhood for potential candidates, who are often also customers, and offer the welcoming environment that encourages people to buy, help and feel involved," Marylene Delbourg-Delphis emphasizes. "Smaller businesses succeed through amiability and dedication. They can sell the fact that each employee can make a difference, and eventually wear several hats. They can only do this effectively if their recruiting strategy is based on interaction."
About TalentCircles: Silicon Valley-based TalentCircles transforms recruiting. Its comprehensive interactive talent engagement platform for desktops, smartphones and tablets enables organizations to create powerful talent pools. The goal is to improve the efficiency of recruiters, offer candidates positive exposure to your business, and reduce your hiring costs and time. The larger your talent pool... the better it is for you when you have the right array of features like semantic job matching, screening questionnaires, video interviewing to evaluate candidates for both aptitude and attitude or perform realistic job previews. TalentCircles is the ideal solution to proactively manage the needs of organizations of any size.