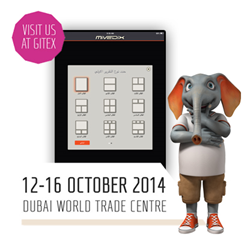 ...the Middle East represents a massive market for mobile applications that can bring data and BI to business users.
Pittsford, NY (PRWEB) October 07, 2014
iVEDiX, the global mobile analytics company, is announcing the release of the full Arabic translation of their mobile analytics platform, miVEDiX. It is being made available to customers in all regions, and for all installations. This marks the beginning of miVEDiX's full support for the Arabic language.
"Obviously, this is huge for us," says Rajesh Kutty, CEO and Founder of iVEDiX. "The Middle East has always been one of our target areas, because of the hunger for technology in the region. Specifically, the Middle East represents a massive market for mobile applications that can bring data and BI to business users."
miVEDiX is a mobile analytics platform that connects to an organization's data or BI infrastructure, and creates reports, dashboards, and other visuals for users to facilitate data exploration, or "data discovery." The Arabic translation comes on the heels of the newest Android version of the product, and is set to debut at GITEX, the annual worldwide technology conference held in Dubai, in October of 2014.
"It is no coincidence that we are releasing the Arabic translation ahead of our visit to GITEX this year," Kutty says. "We value our Arabic-speaking customer base very highly, which is evidenced by our presence in the region. We know that a lot of users still use English, but the best thing about this translation is that it can be toggled with the tap of a switch."
The miVEDiX platform is designed to integrate with existing data infrastructures, and will work with any existing data or BI solution that a customer has already installed. In this way, miVEDiX acts as an extension to an organization's data environment, which is why multi-language support is crucial, Kutty says. "It is hypocritical for a company to offer a technology agnostic product, but make no headway on the language barrier. Offering Arabic closes a very significant gap in the region, since miVEDiX is the only full mobile application that allows for this kind of Arabic support."
About iVEDiX
iVEDiX offers extensive mobile analytics services and solutions across a wide variety of industries including Healthcare, Retail, and Business Services. miVEDiX, iVEDiX's flagship mobile analytics platform, seamlessly integrates with existing data infrastructures and gives users access to their data from their mobile device. The platform combines rich visualizations, sophisticated interface options, and real-time updates to deliver an immersive data discovery experience. iVEDiX is headquartered in Pittsford, New York, with offices in Boston, Bangalore, and Dubai. To learn more, visit http://www.ivedix.com.