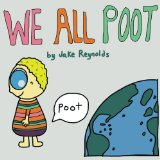 From Chicago to London and on to Beirut, we all might be different but we all have to poot!
Wilmington, North Carolina (PRWEB) October 08, 2014
We All Poot is a new children's book written and illustrated by aspiring father of the year, Jake Reynolds. Jake takes the reader on a trip around the world teaching kids about diversity while incorporating the always funny bodily function that we all have in common… the poot (fart). The book is a colorfully illustrated adventure that everyone can relate to and enjoy.
We All Poot believes that it is very important to teach kids about diversity. The reader travels the globe from North America to Australia where they learn that all kids are very different and unique yet also the same. We All Poot also teaches children that pooting is nothing to be embarrassed by.
Cheryl Schopen for Readers' Favorite wrote: "Written with playful rhymes and with simple yet colorful illustrations, this humorous book with a very true subject matter will surely be a hit among kids. Jake Reynolds is definitely a talented children's author, and We All Poot clearly shows that. I recommend this to kids and adults with a sense of humor."
Jake Reynolds was born and raised in Carrboro, NC, and now lives in Wilmington, NC, with this daughter June and wife Martine.
Available on Amazon, B&N and Authorhouse.com.