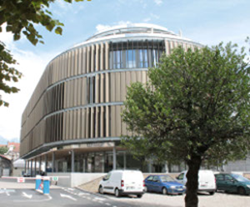 We have invested in state-of-the art stamping machines, injection-molding equipment and assembly technology.
Grenoble, France (PRWEB) October 07, 2014
The 150th anniversary of the ARaymond Network in 2015 will also mark the completion of the largest and most ambitious industrial expansion in its history, according to CEO Antoine Raymond.
Over a three-year period the fastener Network will have invested more than €350 million building or extending 14 plants around the world and purchasing the very latest machinery and equipment.
Mr Raymond said: "Our investment has been spread across both developing countries and emerging markets. I don't believe any of our competitors in the fastener industry has expanded and modernized as much as we have in the last few years. We have opened brand new plants in Japan, India, Germany, France and China, and doubled the size of our sites in the USA, Brazil and the Czech Republic. We have invested in state-of-the art stamping machines, injection-molding equipment and assembly technology. In addition, the layouts of all our plants have been carefully designed to incorporate the latest lean manufacturing methods."
"These new and upgraded facilities will give us significant added capacity and eliminate bottlenecks in production that we have experienced with some of our product lines in the past. Delivery leadtimes will be reduced and the distribution of our automotive fasteners, clips and quick connectors will be improved in many markets."
Since 2009, the turnover of the Network has more than doubled, rising from €440 million to €930 million. In that time the size of its workforce has increased from 3,500 to 5,500. Mr Raymond said: "The ARaymond Network is now made up of 34 independent companies and over the last five years we have made tremendous progress in improving levels of teamwork and co-operation between our different companies."
"This has been partly achieved by developing common tools and interfaces such as Enterprise Resource Planning (ERP) software, computer-aided design and computer-aided manufacturing (CAD/CAM) systems, a global Customer Relationship Management (CRM) program and a technical database. But it would not have been possible to improve levels of collaboration without also completely changing the culture of the organization. We have encouraged both long-serving and newly recruited employees to adopt new ways of thinking and working. There are now higher levels of trust between our companies and colleagues are more motivated to help and support each other. This process is only about 70 per cent complete but step by step we are becoming a truly collaborative global network able to service customers in many key markets around the world."
In the coming years Mr Raymond, great-great-grandson of Albert-Pierre Raymond who founded the firm in 1865, predicts the ARaymond Network will continue to innovate, developing a new generation of smart connectors and fastener systems that should best meet manufacturers' demands for improved safety and reliability, lower costs and better environmental performance.
He added: "Automotive has traditionally been our main market but our goal is also to increase our market share in the health, agriculture, industrial and renewable energy sectors. In five years from now, I would like the ARaymond Network to be recognized as the world's best provider of fastener and assembly solutions in terms of technology, innovation, quality, reliability and after-sales support.
"As well as our expertise, engaged workforce and international presence, I attribute our success in recent years to the fact that we are a family-owned business. Unlike listed companies that are focused on making short-term profits to pay back their shareholders, we have always been able to take a long-term view and invest for the future."
About ARaymond Network
The ARaymond Network*** is a worldwide leader in fastening and assembly solutions for the automotive industry, and has over recent years transferred its expertise and skills to new markets: TRUCK, INDUSTRIAL, ENERGIES, AGRICULTURE, and LIFE. A family business established in 1865, innovation has always been at the core of the ARaymond Network DNA, with its press-stud, a small assembly, now used worldwide. Today the ARaymond Network comprises 37 companies across four continents, with 11 design offices and 22 production sites. Six per cent of turnover is invested in research and development every year.
*ARaymond Network refers, in this Article, to a network of independent companies (http://www.araymond.com)