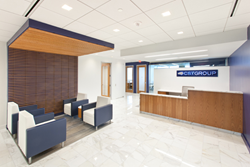 Throughout the various project phases, it was the friendly collaboration between all parties involved that led to a well-balanced design.
Washington, DC (PRWEB) October 07, 2014
CST Group, CPAs, PC won the ABC Excellence in Construction Award for Best Interior in the $35 to $50 per square foot category at the recent awards ceremony, which was designed by the architecture and interior design professionals at OTJ Architects and built by general contractor L.F. Jennings.
This 16,740 SF office relocation cost $40 per square foot and received the award based on the degree of complexity and high-end finishes, along with the successful collaboration amongst the broker, design team and general contractor.
"Between the Jones Lang LaSalle and OTJ teams, it was one of the smoothest jobs I have ever been on and by far the most collaborative and fun team I've been a part of," said L.F. Jennings Project Manager of Corporate Interiors Andrew Kowalski.
It was very important to CST Group, CPAs, PC that the office portray sophistication and professionalism so the reception area was considered a high-impact focus. Marble flooring was used and there is an intricate wood wall feature that looms over the waiting area seating to provide visual appeal for clients that regularly visit the office.
"Namita was not afraid to make decisions; she was decisive and clear with the design intent," Kowalski said. "The materials specified fell in line with the budget and time constraints CST faced."
CST Group, CPAs, PC also wanted to exhibit its own brand, mission and culture and account for future company growth, which involved moving management-level staff into workstations instead of closed offices. To facilitate this change, the design included larger workstations with glass at the top to not block natural light and provide a greater sense of privacy with the illusion of added height.
"In some ways, each partner and individual group had its own unique work style," said OTJ Project Manager/Senior Project Designer, Namita Shah, IIDA. "Being able to find solutions that addressed the varying needs into one cohesive response was challenging and fun."
Also important was the idea of collaboration, so the employee lounge was designed to be an open area that became a destination for the staff to meet, discuss and relax. The training room is connected to the lounge and can be separated by a divisible wall during monthly training sessions to allow multiple sessions to be held concurrently.
This project for CST Group, CPAs, PC helped to solidify the organization in its own space and give it a new identity and sense of pride. The time spent to create an open floor plan that worked for the staff ensured the change from closed offices to workstations would be a smooth transition. The detailed reception area, training center and conference room also enable the financial services firm to host events and meetings and invite clients to share in its new personalized office.
"Everyone on board was instrumental in creative problem solving," Shah said. "Throughout the various project phases, it was the friendly collaboration between all parties involved that led to a well-balanced design."
Contact OTJ Architects to discuss your architectural needs today.
About OTJ Architects
OTJ Architects is a well-respected national interior architecture design firm that has successfully completed thousands of projects throughout the country. Founded in 1990, OTJ is comprised of five studios headquartered in Washington, DC, with more than 60 architects and designers, many of whom are LEED Accredited Professionals. OTJ is registered in 37 states and is able to consult in all 50 states. The responsive interior architecture consultants create effective environments through listening, understanding and tailored design. These designs focus on helping clients enhance collaboration, company branding and employee recruitment and retention. OTJ's design teams provide clients with personalized attention to create workplace solutions that reflect their unique, individual needs. For more information visit otj.com.