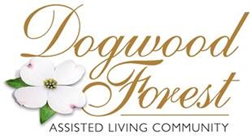 Acworth, Ga (PRWEB) October 06, 2014
October 1, 2014 - A full celebration is being planned for the new, long awaited Dogwood Forest Assisted Living in Acworth, Georgia. The community has announced Thursday, October 16, 2014 as the date for its Grand Opening of the Dogwood Forest of Acworth community located in historic downtown Acworth at 4461 South Main Street. The event will be held from 5:30 p.m. to 8:30 p.m. A brand known for its focus on positive living environments, Dogwood Forest offers area seniors new living options for both assisted living and memory care in an environment designed to improve the outcomes in the health and lives of its residents. The assisted living community, which is the first in city limits, officially opened its doors in July 2014.
The day's events will kick off with a closed ribbon cutting ceremony followed by the grand opening celebration for the public. Attendees will have the opportunity to tour the community as well as enjoy live music and entertainment, food catered by local eatery Gabriel's Desserts, and a special toast. Acworth Mayor Tommy Allegood, and several members of the Acworth city council and government will all be in attendance.
In the months since the community's opening, Dogwood Forest of Acworth has been considerably successful by industry standards for a new opening, according to community managers. And they believe the outpouring of support is nothing short of divine.
"We're excited about the grand opening celebration and sharing the Dogwood Forest Difference with Acworth residents," said Nicolle Williams, executive director for Dogwood Forest of Acworth. "For over six years, the citizens of Acworth watched and anticipated the construction of this community. From its inception, local government, businesses and citizens have joined us in prayer over its ground breaking, topping-off ceremony and the opening its leasing office, and soon the official grand opening celebrations, said Williams. " The community moved in its first resident beginning July 14th of this summer, and more and more people have decided to call Dogwood Forest of Acworth home ever since, she added. "As a company and community, we know that this is because it was always a God's plan for it to be here. The grand opening celebration will give everyone an opportunity to see what truly makes Dogwood Forest different from what many people consider assisted living to be," Williams concluded.
According to community representatives, Dogwood Forest of Acworth occupancy rate has soared.
Aside from assisted living and memory care services, the 93 unit, three story, 87,000- square- foot property also offers care services such as respite stays, adult day services, and post-operative care.
About Dogwood Forest:
Dogwood Forest of Acworth is an assisted living community located in the downtown corridor of Acworth, Ga. The community totals 87,000-square-feet and has a total of 93 units dedicated to both assisted living and memory care residents. The community officially opened in July 2014 Dogwood Forest Assisted living communities believes in creating living environments designed to improve the lives and health outcomes of its residents. Dogwood Forest is managed by Trinity Lifestyles Management, a leader in senior living care. For more information about Dogwood Forest, please visit http://www.dogwoodforest.com or call 678-831-4999. To learn more about Trinity Lifestyles Management, visit http://www.trinitylifestylesmanagement.com