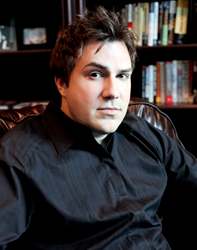 Everything from coffee pots to smart phones can now be connected to the Internet, and this is growing at a rapid rate
Scottsdale, AZ (PRWEB) October 06, 2014
Cloud computing has changed much abut the digital world, from the way we do business to the way we store and share photographs. Jason Hope, Arizona entrepreneur and philanthropist, indicates that cloud computing is about to see its own change due to the rise of the Internet of Things.
"The Internet of Things," states Hope, "refers to the large number of connected devices that people are bringing to their homes and offices. Everything from coffee pots to smart phones can now be connected to the Internet, and this is growing at a rapid rate."
By 2020, futurists like Hope expect to see around 4 billion people connected through 50 billion devices, which is close to double the number now. As these devices and their use expand, the cloud may be the only platform poised to help with the connections and data the devices create. This means that cloud computing will change and grow along with the Internet of Things.
"We can expect to see many more startups offering connected devices in the coming years," claims Hope. "With those come opportunities for cloud vendors, because startups will use the cloud due to its affordability and minimal upfront investment requirement."
MSP agrees with Hope. In a recent article "How the Internet of Things Will Change Cloud Computing" other changes expected include more interest in cloud computing from developing countries as they begin to catch up with the growth of the Internet of Things. Also, analytics and the advertising that comes as a result will continue to be more important as helping choose the next "thing" to add to the Internet of Things, and cloud computing will play a roll in housing that data.
"The Internet of Things changes many aspects of daily lives," states Hope. "Cloud computing is just one example of this. As the connectivity of the world grows, the cloud is going to have to grow and accommodate it as well."
About Jason Hope
Jason Hope's entrepreneurial activities have helped establish him as an expert in the tech world. He uses his success to help support organizations in Arizona and the rest of the country that work to better the human condition, fight aging and improve the local community. Learn more about his work at http://www.jasonhope.com.