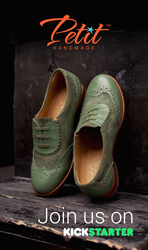 I realized that finding a lovely, stylish and comfortable shoe for a kid sometimes seems like "mission impossible".
Kyiv, Ukraine (PRWEB) October 08, 2014
Ukrainian shoe producing start-up Petit is using Kickstarter to fund and launch their inaugural collection of handmade "grown-up"-styled children's shoes. Combining contemporary style and British shoemaking traditions, the shoes are made of natural materials and take into account specifics of growing feet.
Despite Ukraine currently undergoing significant economic and political changes, it has always been a country of forward-thinking entrepreneurs and raw creative talent branching out into various business directions.
One of such talents, Anton Sylenko, came up with a bright idea born out of necessity – handmade adult-designed shoes for children with a mass market price tag – and set up a start-up appropriately named Petit to bring the concept to international market. Petit's premier collection was designed around the concept of fulfilling a child's eternal dream – wearing stylish shoes, "just like mommy's and daddy's".
Designs usually reserved for adult fashion have been applied to creation of exquisite handmade shoes for little fashionistas combining contemporary style and British shoemaking traditions. Handmade natural leather shoes are crafted for children and adolescents aged 5 to 18.
"Members of our team have their own kids and I have a daughter myself. At a certain moment in time, I realized that finding a lovely, stylish and comfortable shoe for a kid sometimes seems like "mission impossible". Finding shoes that the kids will put on with the same delight and gleam in their eyes, as when they try on their parents' ones, is even harder. This led us to creating the first pair of classic shoes for boys. Thereafter, our shoe masters were just unstoppable", – says Anton Sylenko, CEO, Petit.
In a little factory in Kyiv, the heart of Ukraine, Mr. Sylenko and his team of young visionaries brought together the best local shoemakers to create Petit children's shoes. Production of a single pair takes 72 hours, 69 of which the shoe is being directly held by the shoe master. Key shoemakers at Petit have over 30-40 years experience in handcrafting shoes.
Petit shoes are made of entirely natural materials – even flour-based glue "cooked" by the shoe masters. Every pair is produced using exquisite Italian and Turkish leather, with love and care, responsibility and compliance with all the subtleties of the technological process. All of the models are crafted with maximum attention to specifics of growing feet.
"I've been in the shoemaking business for over 20 years, and I've seen my handful of good and bad models and approaches. The stuff we're making here, it's unprecedented. I'm really passionate about this project. The models are beautiful, intricate, something completely new for the business" – says Sergiy Tymofeev, Head Shoe Master, Petit.
Petit uses direct-to-consumer distribution model avoiding marketing costs in favor of investing into enhanced shoe quality. Eliminating the typical retail margins, a pair of shoes is currently priced at $135, allowing significant savings compared to a potential retail price tag of $200 and even more. This is as competitive a price for handmade shoes, as it gets, without letting go of stringent quality standards.
Petit's initial Kickstarter campaign has started recently – on October 2, 2014 – and will run until November 16, 2014. The company aims to get support to expand the range of handmade elegant footwear and make it accessible.
The initial funding goal of the Kickstarter campaign is set at $15,000. Reaching this goal will allow Petit to execute pre-orders for a limited series of shoes, placed by Kickstarter backers. Backers who helped reaching that goal will have access to various reward options depending on their pledge amounts.
The link to the campaign can be found at:
http://kck.st/1vABwgO
Petit's premier collection includes six shoe models for the spring/summer/fall season, three each for boys and girls. Shoes are available in various colors and in different leather treatment combinations (including split, varnish, naplack, glazed, velour, and crocodile skin- and python skin-embossed leather).
Highly experienced and proficient shoe masters of Petit create small aristocratic shoes, which are equally appropriate on a regular stroll in a park and during an exquisite celebration. The shoe designers were initially inspired by the elegant fashion of old Britain, successfully combining classical concepts with urban casual styles.
Girls' shoes are simultaneously delicate and playful. Petit creates classic black-and-white Mary Jane style shoes as well as python-style leather ballet shoes with a strap and a bow. Models for boys embody the elegance of classical forms with simple decorative elements. Brogues successfully complement the small tweed suit or casual outfit, while traditional Oxfords will give confidence to young princes at official events.
Descriptions and photos of each pair are available on Petit's official website.
About Petit
Petit is headquartered in Kyiv (Ukraine). Founded in 2014, the company produces handmade children's shoes crafted by the shoe masters in classic English style with modern motifs. Every pair of Petit is a little wonder, combining the elegance of adult models with comfort and affection for growing feet. Petit motto is "Kids' shoes taken seriously".
For more information please visit: http://petit.me.uk/