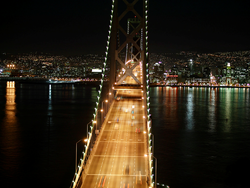 See the Bay Bridge Lights before 2015!
San Francisco, CA (PRWEB) October 08, 2014
With only weeks left of the Twilight Tour of San Francisco, visitors have limited opportunities to see the Bay Bridge Lights – the world's largest contemporary LED light sculpture ending in March 2015. Some of the other prized highlights of the Twilight Tour include the picturesque dome of City Hall, Golden Gate Bridge, North Beach, Fisherman's Wharf, the Fillmore District and so much more! The Twilight Tour of San Francisco is 3 hours long on a luxurious and comfortable motorcoach that runs from 6:00pm-9:00pm on Tuesdays, Thursday, Saturdays and Sundays. Call now to reserve your seats before October 14.
Adults: $43.00
Seniors: $41.00
Children: $26.00
Location: Tower Tours – 288 Beach Street at Fisherman's Wharf
(Complimentary hotel shuttle service available)
Contact Information: 415.345.TOUR (8687) or toll free 1-866-345-8687