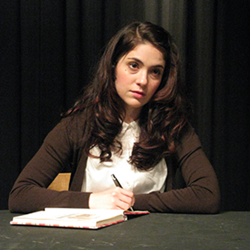 New York, NY (PRWEB) October 07, 2014
In honor of the National Day on Writing, The Anne Frank Center USA will host "Conversations with Anne," a 40-minute performance with an actor in the role of the young writer; followed by a 15-20 minute Q&A where kids can ask Anne questions about her life in hiding and before the war. The performance will be followed by a guided tour of our gallery and a writing workshop inspired by Anne's famous diary. Suggested age 9 and up.
Anne Frank was just 13 when her family went into hiding in the Secret Annex to avoid capture by the Nazis. The experience took away nearly everything – from friends to fresh air – but her curiosity and optimism remained, as evidenced in her now famous diary. During the two years she spent in hiding, she used writing to reflect on the turmoil of the world around her, stressing the need not only for tolerance and peace, but for individuals brave enough to work toward these things. "How wonderful it is," she observed in March 1944, "that no one has to wait, but can start right now to gradually change the world!"
The Center believes, as Anne did, that children matter and can make a positive difference. We are hosting this event in honor of Anne and the National Day on Writing in the hope that we can bring her message of courage and self-discovery to a new generation.
Event information:
Conversations with Anne
Saturday, October 18, 2014 from 1:00-3:00pm
$8 adults; $5 students and seniors
Reservations Recommended - RSVP to info@annefrank.com or 212-431-7993
The Anne Frank Center
44 Park Place
New York, NY 10007
Trains 2, 3, Park Place; A, C, E, Chambers; 4, 5, 6, N, City Hall/Brooklyn Bridge; PATH WTC
The Anne Frank Center USA, a partner of the Anne Frank House, uses the diary and spirit of Anne Frank as unique tools to advance her legacy, to educate young people and communities about the dangers of intolerance, antisemitism, racism and discrimination, and to inspire the next generation to build a world based on equal rights and mutual respect.