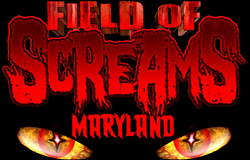 "The honor of being chosen to compete on such a great show against the best in the industry was the culmination of years of planning and very hard work by everyone."
OLNEY, MD (PRWEB) October 08, 2014
After a nationwide search for the best haunts and haunt designers in the country, the Field of Screams Maryland was selected to compete on cable TV's A&E Network to see which of the best haunt designers and builders could transform beautiful homes into tiny haunted houses. In a first-ever reality competition of haunted house designers and builders, which will air on October 15, 2014 at 9pm EST, the A&E Network's new FYI, Tiny House Nation Halloween Special Edition is breaking new ground in more ways than one.
Tiny House Nation (THN), launched in early July, now boasts over one million weekly viewers and was one of cable's fastest growing shows in 2014. THN is leading the largest trend in residential real estate following renovation experts and hosts John Weisbarth and Zack Giffin, as they travel across America to show off ingenious small spaces and the inventive people who live in them.
Tiny homes, apartments and condo designs are the biggest trends in real estate development with numerous homes and apartment buildings being built in cities and suburbs across the country. THN is groundbreaking in reality TV and more tiny house-themed shows are in production as strong ratings are drawing more networks. As part of their halloween special, THN conducted a national search to find haunt teams that could take their own halloween design expertise and apply them to tiny spaces transforming them into "tiny" haunted houses.
Field of Screams Maryland, celebrating its 14th year of creating legendary scares, is the largest and most popular multi-haunt in Maryland, DC, Virginia and Delaware, and hosts a horrifying haunted trail, haunted house, haunted hayride and zombie paintball ride that helps benefit the youth sports leagues of the Olney Boys & Girls Club (OBGC).
The team that designs, produces and manages the Field of Screams Maryland is now considered one of the country's top design, make-up and acting troupe and the honor of being selected after an independent national search seems to have proven that. The production team, referred to as Steelhead, has elevated the event to national attention over the past four years and the haunt's genius and attention to every detail is responsible for developing Field of Screams Maryland's national reputation for excellence.
"We have challenged our team to improve the haunt experience for our guests every year striving to be the best. The honor of being chosen to compete on such a great show against the best in the industry was the culmination of years of planning and very hard work by everyone," said OBGC Board of Director Chair, Dan Dionisio.  "We realize everyone will be asking how we did on the show, but they will just need to watch and see on October 15th at 9pm as the winner will be announced at the end of the show."
For more information about Field of Screams Maryland, visit Screams.org. Field of Screams Maryland is also on Facebook, Twitter (@fieldofscreamsmd), and Instagram (@fieldofscreamsmaryland).
# # #
Olney Boys and Girls Community Sports Association – PO Box 2 Olney, MD 20830 – (301)570-3990 – http://www.obgc.com