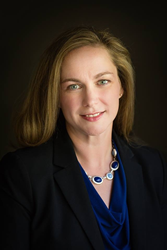 "This is an historic occasion in the history of our firm," said Fernley.
PHILADELPHIA, PA. (PRWEB) October 07, 2014
America's first Association Management Company Fernley & Fernley names first non-Fernley family member as President in 128-year history of the firm. Trudie Bruner, CAE becomes the 5th President of Fernley & Fernley, a Philadelphia-based Association Management Company founded in 1886, announced Taylor Fernley, Chief Executive Officer. Ms. Bruner also will continue as Chief Operating Officer.
"This is an historic occasion in the history of our firm," said Fernley. "Not only is Trudie the first non-Fernley President in our 128 years, she also becomes our first female President. I am sure my great grandfather T. James Fernley, who founded Fernley & Fernley in 1886, would be very proud of where the firm is today, our future, and knowing we have a person of Trudie's background and caliber as a member of the leadership team moving forward."
Fernley added that Ms. Bruner will continue to build and maintain existing relationships with clients and key partners, and assume additional internal management responsibilities freeing him up to focus on developing and building new strategic relationships with clients, prospective clients and industry partners.
Trudie Bruner, CAE, joined Fernley & Fernley in 2006 and has served as Chief Operating Officer since 2007 responsible for day-to-day operations of the company. Although she has spent most of her career in association management, she also has worked in private industry.
Ms. Bruner earned her Bachelor of Arts in Economics from Loyola University in Maryland and a Master of Business Administration from the prestigious Sloan School of Management, Massachusetts Institute of Technology. She also holds her CAE, the highest professional credential in the association management profession.
Fernley & Fernley is America's first Association Management Company. The firm is owned and led by Taylor Fernley, the great grandson of founder T. James Fernley, a successful hardware wholesaler who was a member of the Hardware Merchants and Manufacturers Association of Philadelphia. Like many association members, he looked to his association for industry information and for an opportunity to network with his peers. Fernley also saw a need for more leadership and, like a true entrepreneur, stepped up to the plate and began helping to manage the Association. In true entrepreneurial fashion, T. James' son, Thomas A. Fernley, Sr., joined his father shortly thereafter, and the two quickly earned a reputation for exceptional organizational and leadership skills. By 1909, a number of other national associations approached the Fernleys, requesting that they serve as their organization's management team. America's first association management firm was born.
Today Fernley & Fernley is one of the most respected Association Management Companies in the world with 40+ associates and represents 20+ regional, national and international clients.
Fernley & Fernley provides solutions for distribution associations, manufacturing associations, healthcare professional societies, financial services associations and other non-profit organizations.
ABOUT FERNLEY & FERNLEY
Fernley & Fernley, Inc. has been a leader in non-profit management for 128 years, currently serving as Management Headquarters for 20+ international, national, and regional trade associations and professional societies in a wide variety of industries and professions. Fernley & Fernley is charter accredited by the Association Management Company Institute. For more information visit our web site at http://www.fernley.com.